Ava DuVernay Directing Netflix Series About The Wrongly-Convicted Central Park Five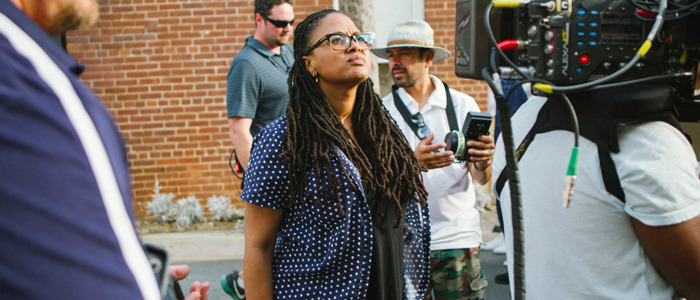 After 13th, which detailed the history of mass incarceration in the United States, scored a well-deserved nomination for Best Documentary Feature at this year's Oscars, director Ava DuVernay (Selma, Disney's upcoming A Wrinkle in Time) is heading back to Netflix to direct a five-episode series that tells the story of the wrongly-convicted Central Park Five. Get the latest info about the new Ava DuVernay Central Park Five TV show below.
If you don't know anything about the Central Park Five, you may be better off abandoning this article right now and just waiting for DuVernay's show to fill you in. 13th was a thorough exploration of systematic oppression, and as unpleasant as the subject matter was to hear, I still enjoyed the experience of being swept up in the director's passionate vision; I imagine a similar thing will befall those who go into this series without knowing about its subject.
But most of you have probably heard of the Central Park Five by now. Their story has been widely covered, including in a 2012 film by famed documentarian Ken Burns. (Since that movie is called simply The Central Park Five, I wonder if DuVernay will need to come up with a different title for her show.)
DuVernay isn't just directing this scripted series, but writing it as well. Her statement in the press release indicates that this is another big passion project for her:
"I had an extraordinary experience working with Netflix on '13th' and am overjoyed to continue this exploration of the criminal justice system as a narrative project with Cindy Holland and the team there. The story of the men known as Central Park Five has riveted me for more than two decades. In their journey, we witness five innocent young men of color who were met with injustice at every turn – from coerced confessions to unjust incarceration to public calls for their execution by the man who would go on to be the President of the United States."
Here's the official synopsis for the untitled series:
Based on the true story that gripped New York and the world, the series will be a five-episode limited, scripted series that exposes the breakdown of our criminal justice system at every phase of the notorious Central Park Five case. Each part will focus on one of the five teenagers from Harlem — Antron McCray, Kevin Richardson, Yusef Salaam, Raymond Santana and Korey Wise — wrongly convicted of raping Trisha Meili in Central Park. The series will span from the spring of 1989, when each were first questioned about the incident, to 2014 when they were exonerated and a settlement was reached with the city of New York.
This is another story that isn't exactly "fun" to watch or think about, but it's vital that we all understand the kinds of things that can and will continue to happen in this country if we don't take facts seriously. Participant Media, Harpo Films and Tribeca Productions will produce the series, which is aiming for a 2019 release on Netflix.