'Geostorm' Trailer: Gerard Butler's New Disaster Movie Looks Like A Disaster Of A Movie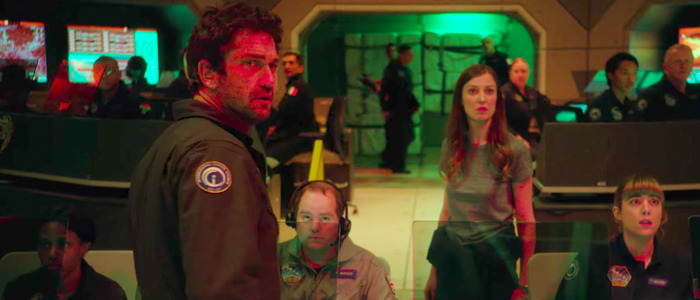 I caught some of Independence Day on cable during the Fourth of July, and was struck by how Hollywood doesn't make many movies like that anymore. Sure, massive blockbusters with ensemble casts are a dime a dozen, but the disaster movie genre isn't what it used to be.
Enter Dean Devlin, the man who wrote and produced Independence Day. His directorial debut, Geostorm, looks to singlehandedly resurrect that cheesy, ludicrously-plotted type of movie to theaters. If you're looking for a film that features ridiculous concepts like Gerard Butler (300) trying to outsmart malfunctioning satellites that control the weather while Jim Sturgess (Across the Universe, 21) and Abbie Cornish (Limitless) kidnap the President (Andy Garcia), you're going to love this.
Geostorm trailer #2
As Jacob indicated in his write-up of the film's first trailer, you're either going to be all-in for this type of insanity or you've already clicked away because you want to get the stink of that trailer off your screen as quickly as possible. If this were five or 10 years ago, I would have embraced the silliness and seen this on opening weekend, but now I'm of the mindset that life is too short to wade around in bad movies – especially when there are so many classic films I haven't seen yet.
Geostorm is the first co-production between David Ellison's Skydance Productions (the Star Trek and Mission: Impossible franchises) and Warner Bros. Pictures, and all signs point to an ignominious start to that partnership. This movie completed principal photography way back in 2014, but the studio apparently didn't like what they saw. Last year, they ordered weeks worth of reshoots to the tune of $15 million that involved recasting a character, adding a new female scientist, hiring Shutter Island writer Laeta Kalogridis to contribute to the script, and adding more visual effects and music to the final product. Oh yeah, and Judge Dredd director Danny Cannon came in to direct the reshoots while Jerry freakin' Bruckheimer was called on to oversee the whole thing. (The official explanation for why Devlin didn't direct the reshoots was that he was busy with another project.)Geostorm also stars Alexandra Maria Lara (Rush), Daniel Wu (The Man with the Iron Fists, Warcraft: The Beginning), and Ed Harris (Apollo 13, The Abyss), and the film (finally) arrives in theaters on October 20, 2017.
After an unprecedented series of natural disasters threatened the planet, the world's leaders came together to create an intricate network of satellites to control the global climate and keep everyone safe. But now, something has gone wrong—the system built to protect the Earth is attacking it, and it's a race against the clock to uncover the real threat before a worldwide geostorm wipes out everything...and everyone along with it.