Alamo Drafthouse And 'Ingrid Goes West' Director Matt Spicer Announce 'Tales Of The Obsessed' Repertory Series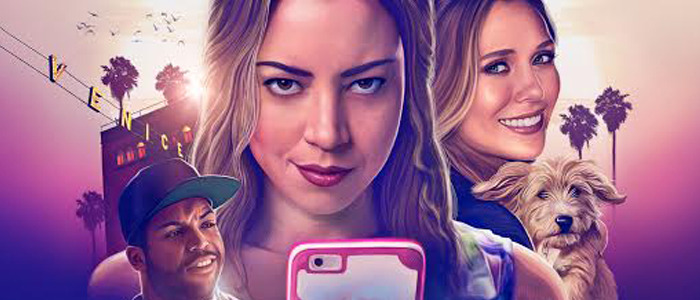 Ingrid Goes West is the story of a mentally unstable young woman (Aubrey Plaza) who becomes obsessed with a social media celebrity (Elizabeth Olsen) and moves to Los Angeles as part of an insane plan to befriend her in real life. We loved the film when we saw it at the Sundance Film Festival and named it one of the 10 best films of the fest, so we're excited to see Neon release it into theaters next month.
Now, the Alamo Drafthouse has teamed up with director Matt Spicer to program a 23-film repertory series to run alongside the film, giving audiences a taste of the classic and not-so-classic movies that inspired Ingrid Goes West.
Titled "Tales of the Obsessed," the screening series will focus on films about "one of cinema's most beloved and feared archetypes – the obsessed outsider." The films in the series run the gamut from horror classics (Carrie) to quirky comedies (Bottle Rocket) to modern masterpieces (Eternal Sunshine of the Spotless Mind) to tales of often inexplicable weirdness (Stroszek). This may be the only repertory screening to somehow feature both Pee-wee's Big Adventure and Mulholland Drive. It's one helluva line-up.
Here's what Spicer, who also co-wrote Ingrid Goes West's screenplay, had to say about the movies featured in this series:
I love films about intense, desperate or lonely people searching for a way in or some kind of human connection. Like their protagonists, these films don't conform to society's standards; they're wild and unpredictable, sometimes dangerous or uncomfortable to watch, but always fascinating. When Aubrey (Plaza) and I were making INGRID GOES WEST, these were the films we kept coming back to again and again for their fearless performances and mastery of tone.
The series will run in Alamo Drafthouse theaters in New York City, Austin, San Francisco, Corpus Christi, Denver, El Paso, Houston, Kansas City, Lubbock, New Braunfels, Ashburn, VA, Omaha, Phoenix, San Antonio, and Yonkers throughout the month of August. You can find individual screening information and purchase tickets right over here.
Ingrid Goes West opens in New York and Los Angeles on August 11, 2017 before expanding wide on August 18, 2017. You can find a complete list of the films in the "Tales of the Obsessed" series below:
ETERNAL SUNSHINE OF THE SPOTLESS MIND