Christopher Nolan's 'Dunkirk' Box Office Tracking For A $40 Million Opening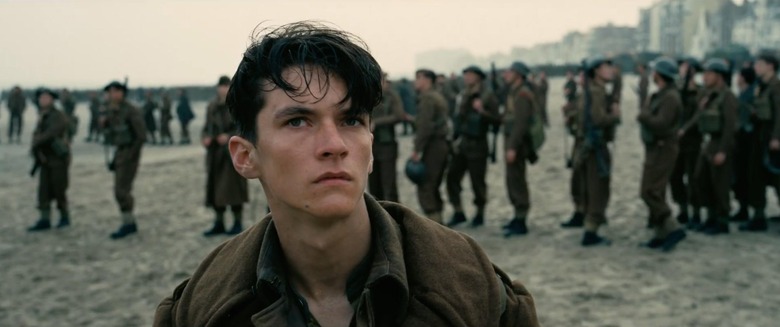 Box office tracking for Christopher Nolan's World War II movie Dunkirk suggests an opening weekend in the $30 to $40 million range. This would make it Nolan's lowest opening for a wide release since 2006.
It is important to note however, that these are early estimates, with the film not slated to open in theaters for another two weeks, so numbers are bound to change up until its release.
Dunkirk is projected to open to about $40 million at the box office, according to early industry tracking estimates reported by Variety.
This would make it Nolan's lowest opening for a wide release since The Prestige hauled in $14.8 million in its opening weekend. To be fair, his past releases have been either big budget spectacles revolving around a certain Dark Knight, while his much-anticipated original releases like Interstellar or Inception boasted big name stars like Matthew McConaughey or Leonardo DiCaprio. While Dunkirk features some Nolan regulars who are fairly well-known actors like Tom Hardy and Cillian Murphy, the film is centered around unknown star Fionn Whitehead and other newcomers. It's a very British-centric movie at that, boasting a cast of established British actors as well telling the story of a World War II battle that few Americans know about but plenty of British schoolkids do.
Dunkirk faces stiff competition on its opening weekend, with Luc Besson's Valerian and the City of a Thousand Planets releasing at the same time, and Spider-Man: Homecoming hitting theaters two weeks before it. War for the Planet of the Apes is sure to do big numbers in the week before Dunkirk as well, which may affect estimates. But Nolan's big name and the draw of One Direction boybander Harry Styles may be enough to give Dunkirk some box office clout.
War movies tend to do moderately well at the box office. According to Variety, Saving Private Ryan, for all its buzz, opened to merely $30.6 million (it went on to become the second highest grossing movie of 1988). High-earning war films tend to open around the $30 to $50 million range, such as 2001's Pearl Harbor at $59.1 million, and Inglourious Basterds with $38.1 million.
Dunkirk will be the widest opening in 70MM theaters in 25 years, with 125 theaters showing the World War II film in the format.
Here's the synopsis for Dunkirk below:
In May 1940, Germany advanced into France, trapping Allied troops on the beaches of Dunkirk. Under air and ground cover from British and French forces, troops were slowly and methodically evacuated from the beach using every serviceable naval and civilian vessel that could be found. At the end of this heroic mission, 330,000 French, British, Belgian and Dutch soldiers were safely evacuated.
Dunkirk stars newcomers Fionn Whitehead, Tom Glynn-Carney, Jack Lowden, and former One Direction member Harry Styles making his acting debut. The cast is rounded out by established stars and frequent Nolan collaborators including Cillian Murphy, Mark Rylance, Tom Hardy, Kenneth Branagh, and James D'Arcy.Dunkirk hits theaters on July 21.