LOL: 'Jurassic Park' Gets The 'Dinosaurs' Mash-Up We've All Been Waiting For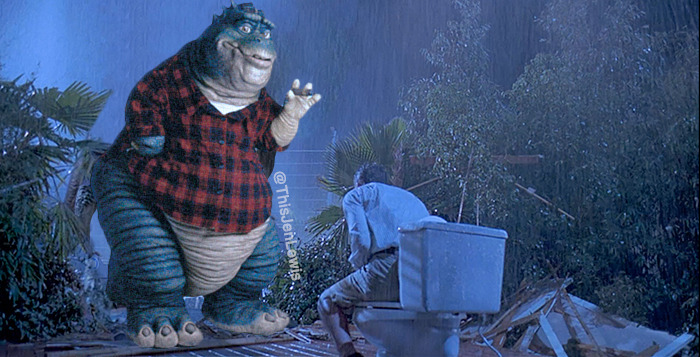 If you didn't live through the 1990s, then you might not know that there was an inexplicably popular sitcom on ABC called Dinosaurs. Featuring actors in big rubber suits, the series was your average sitcom, but it just so happened to follow a family of walking, talking dinosaurs living during a time when Pangea was still a thing.
Now illustrator Jen Lewis has given Dinosaurs the upgrade it deserves by making the family of prehistoric beasts part of Steven Spielberg's modern classic Jurassic Park. Earl Sinclair (the father), Fran Sinclair (the mother and Earl's wife), their three children (son Robbie, daughter Charlene, and Baby Sinclair) and even Fran's mother, Ethyl are all dinosaurs in the theme park. Plus, the show's opening credits even get an amusing makeover.
Let the Jurassic Park Dinosaurs mash-up make your dreams come true below.
Jen Lewis started off with this round of images featuring some of the main family members:
*Clears throat as if to announce something extremely important*
"Jurassic Park" but the dinosaurs are from the '90s TV show "Dinosaurs" pic.twitter.com/PMhfbuUlbX

— Jen Lewis (@thisjenlewis) June 28, 2017
Then she expanded it the next day with the rest of them, including Earl's boss Bradley P. Richfield:
Thank you for encouraging my new hobby. pic.twitter.com/QnAQU4KZvz

— Jen Lewis (@thisjenlewis) June 28, 2017
And finally, the famous introduction to Jurassic Park is made 10 times better with the Dinosaurs theme song:
I leave you with I-am-so-sorry-John-Williams-and-also-watch-until-the-end-for-a-sweet-surprise.mp4 pic.twitter.com/NBJOATAKYx

— Jen Lewis (@thisjenlewis) June 28, 2017
If you're even a little amused with these images but you have no idea what Dinosaurs is, do yourself a favor and seek out a couple of episodes. It's quite the surreal show, and it'll make you feel like you're watching television on that device from Rick and Morty that allows them to watch television from any parallel dimension. However, spoiler alert, much like the end of the dinosaurs in the real world, the ending of the TV show is rather depressing.