'Men In Black' Trivia: Steven Spielberg Wanted Chris O'Donnell To Play Agent J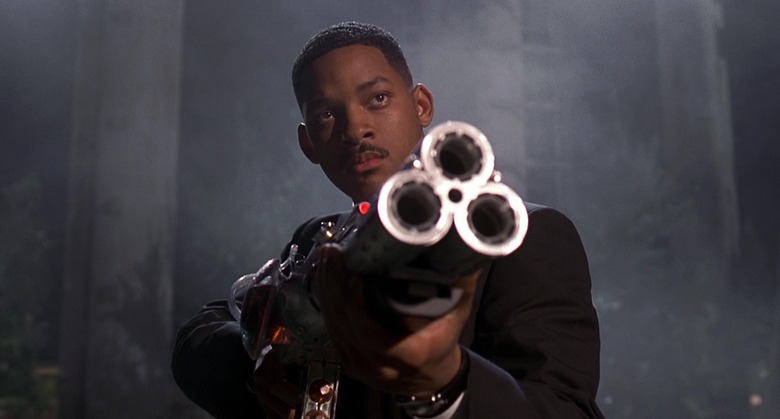 Two of Will Smith's most famous, breakout roles almost went to very different actors. In the case of Bad Boys, Jon Lovitz was originally going to play his part opposite of Dana Carvey. After Lovitz and Carvey bailed on the buddy cop movie, the studio had to be convinced Smith was right for the project. On Men in Black, director Barry Sonnenfeld had to do some persuading as well to secure Smith a part producer Steven Spielberg wanted to go to Chris O'Donnell.
Spielberg's one stipulation for Men in Black was that O'Donnell, who had just starred in Batman Forever and In Love and War, would play Agent J, the newbie of the Men in Black. As for the old and wise Agent K, the executives were adamant about hiring Clint Eastwood, but Sonnenfeld knew he wanted Smith and Tommy Lee Jones .
In an excellent and candid career-spanning with Huffington Post, Sonnenfeld explained how he convinced O'Donnell to turn the role down:
[Spielberg] told me I had to go to dinner with Chris and convince Chris to be in the movie. But I knew I wanted Will Smith, so I told Chris that I wasn't a very good director and I didn't think the script was very good and if he had any other options he shouldn't do Men in Black. He let it be known the next day that he was not interested.
Who else turned down the part? David Schwimmer. Apparently, Smith also passed on the role at some point, but his wife, actress Jada Pinkett Smith, convinced him to do it. Sonnenfeld got Spielberg onboard about casting Smith when the director introduced them and they hit it off.
As for Jones, Sonnenfeld thought he "was very intimidating." In the same interview with The Huffington Post, he mentioned he regretted casting Kevin Kline in Wild Wild West, who didn't want to play a reactionary character. "You want the funny guy and the flat guy," says Sonnenfeld:
Tommy and I got along great, especially after the first movie and he saw how funny he could be by trusting me. He didn't like my direction while we were working because he thought I was trying to make him not be funny....You want the funny guy and the flat guy. Cary Grant is the most brilliant comedy actor there is because he's never trying to be funny.
When you rewatch Bad Boys or Men in Black, it's obvious how Smith became the star that he is. His charisma level in the right role can still be off the charts, but his early work drips of pure movie star charm. His playful style of acting at the time meshed perfectly with the deadpan Jones. They're the kind of great performances that make it difficult to imagine anyone else in those roles.