'Spider-Man: Homecoming' Clip Reveals Peter Parker's Entire 'Civil War' Video Blog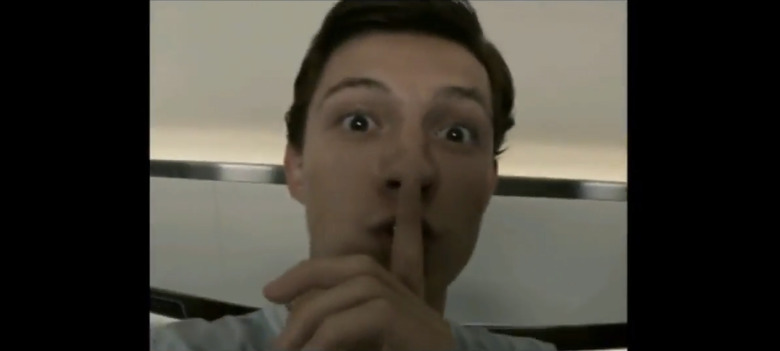 This week brings Spider-Man: Homecoming to theaters, giving the new iteration of the Peter Parker (Tom Holland) his first solo outing in the Marvel Cinematic Universe. He's not entirely alone though, since Tony Stark (Robert Downey Jr.) is serving as his mentor, by way of having his former bodyguard and head of security Happy Hogan (Jon Favreau) keep tabs on the teenage superhero.
Tony Stark recruited Peter Parker to help in his fight against Captain America as The Avengers found themselves on two different sides of a massive disagreement regarding their place in the world. Now we get to see what happened in between Tony Stark's visit to Queens in New York and the big airport brawl in Berlin, Germany, as well as a couple moments during and after the fight, thanks to Peter Parker's secret, personal video blogs that help open up Spider-Man: Homecoming.
Watch the Spider-Man Homecoming opening scene below.
Though this is one of the sequences that opens the movie, it's not actually the first scene. Before we see these video blogs, we're given an introduction to Michael Keaton as Adrian Toomes. In fact, the jump from that scene into the video blogs is a little bit clunky, but these personal video diaries from an eager, enthusiastic Peter Parker and an annoyed Happy Hogan are supremely entertaining.
As you can see, these vlogs lead us right into the the beginning of Spider-Man: Homecoming as Peter Parker is dropped off back at his apartment, complete with a big ole briefcase housing his brand new high tech suit. From this point on, Parker's taste of action in a larger world outside of New York drives his ambition to become an Avenger, though it does end up creating even more problems for him than he anticipated.
A young Peter Parker/Spider-Man (Tom Holland), who made his sensational debut in Captain America: Civil War, begins to navigate his newfound identity as the web-slinging super hero in Spider-Man: Homecoming.  Thrilled by his experience with the Avengers, Peter returns home, where he lives with his Aunt May (Marisa Tomei), under the watchful eye of his new mentor Tony Stark (Robert Downey, Jr.). Peter tries to fall back into his normal daily routine – distracted by thoughts of proving himself to be more than just your friendly neighborhood Spider-Man – but when the Vulture (Michael Keaton) emerges as a new villain, everything that Peter holds most important will be threatened.
Spider-Man: Homecoming arrives in theaters on July 7.