Rumor: Could Samuel L. Jackson Co-Star As Nick Fury In 'Captain Marvel'? [Updated]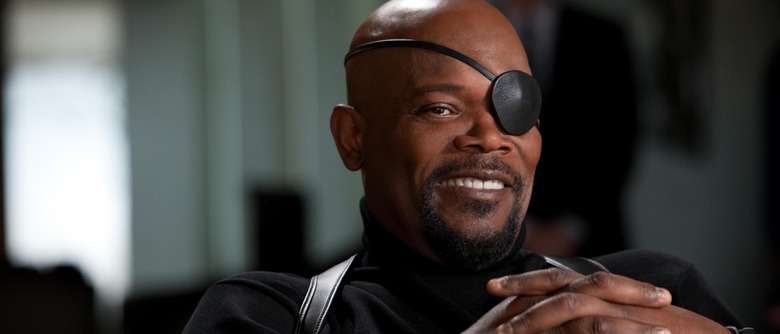 Update: Deadline has chimed in, saying that Omega Underground's scoop is true and there are plans to bring Samuel L. Jackson back into the MCU with Captain Marvel. Our original story runs below.Samuel L. Jackson's Nick Fury was once the connective tissue between all the Marvel Cinematic Universe films, recruiting and cleaning up after the superheroes that would form his Avengers team. But once the MCU took off its training wheels and gained a life of its own, Nick Fury vanished from the scene, last appearing in Avengers: Age of Ultron.
Though he is slated to appear in the next two Avengers films, 2018's Infinity War and 2019's Avengers 4, he may appear in another MCU film that doesn't deal with the big finale of the Infinity Stones and Thanos storyline. Rumor has it that Jackson could appear as Nick Fury in 2019's Captain Marvel, co-starring alongside Brie Larson.
Jackson may co-star with Larson in Captain Marvel, which will begin production in Atlanta in January 2018, according to a report from Omega Underground.
This could be plausible since both Colonel Nick Fury and Carol Danvers, the titular captain, have a history in the military and could feasibly cross paths before she gains her powers. Jackson has worked in films with Larson before as well, starring in March's Kong: Skull Island and Larson's upcoming directorial debut Unicorn Store. However, Omega Underground does note that Jackson appearing in Captain Marvel would require his contract to be extended, as his last Marvel film is set to be the 2019 Avengers movie.
The interesting phrasing here is Jackson's role as a "co-star," meaning his character will take a significant role alongside Larson's Carol Danvers. While it's not unusual for a lesser known star to be supported by more established actor, it is worrisome that Marvel's first solo female movie may not get all of the spotlight. Then again, I may be jumping to conclusions too quickly — Wonder Woman turned out wonderfully despite Gal Gadot and Chris Pine getting nearly equal screen time. "Co-star" may not even be an accurate description of Nick Fury's capacity in the movie — he could only be acting as a helping hand to Carol as she gets used to her newly-gained superpowers.
I would welcome a return for Nick Fury to the MCU, whose unifying presence has been sorely missed as the Avengers have fought and fallen apart, specifically in the events of Captain America: Civil War. Though narratively I know that it is necessary to have the Avengers in a fractured state before they head into Infinity War, I do kind of miss the grown-ups of the team pulling Tony and Steve aside and making them get along.
Captain Marvel will be directed by Anna Bolden and Ryan Fleck (It's Kind of a Funny Story) with a screenplay penned by Nicole Perlman (Guardians of the Galaxy) and Oscar nominee Meg LeFauve (Inside Out). The movie is set to hit theaters on March 8, 2019.