'Game Of Thrones' Final Season Might Feature Movie-Length Episodes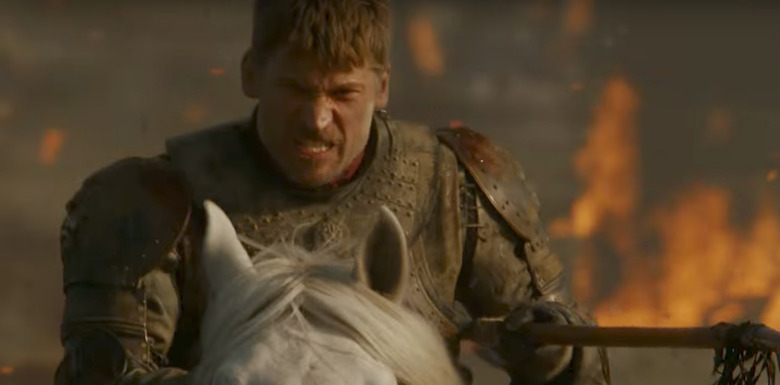 According to reports coming out of this past weekend's Game of Thrones convention Con of Thrones, every episode in the show's eighth and final season could end up being as long as a movie. The most recent trailer already looks like it could be promoting 2017's biggest blockbuster film, so it's not too much of a leap to think about each of the last few episodes being movie-length.
/Filmcast host David Chen was in Nashville, Tennessee for the first-ever Con of Thrones fan convention, and he relayed the information about the final season's potential feature-length episodes in a tweet from a panel with Game of Thrones sound designer Paula Fairfield:
We had heard that the season 7 finale would be 81 minutes long, which already would have been the longest episode in the show's history thus far, but it sounds like that run time has been bumped up by a minute since that report came out early last month. Some fans were disappointed to learn that the show's final two seasons would only consist of seven and six episodes, respectively, instead of the normal ten, so I'm sure they'll be glad to hear that showrunners David Benioff and Dan Weiss are thinking about the possibility of going out with a bang and making the final six episodes in Game of Thrones season 8 feel more like major events instead of just traditional episodes. That would, at least for one season, put this show in the same company as series like Sherlock when it comes to episode lengths.
Technically, we no longer know how much story Benioff and Weiss have left to tell, since the HBO series has overtaken the storyline laid out in George R.R. Martin's A Song of Ice and Fire novels (which he's still desperately trying to finish). But it's expected that season 8 of Game of Thrones, which may not hit our screens until sometime in 2019, will involve a ludicrously-sized battle between the terrifying Night's King and his White Walkers and whatever human characters end up surviving long enough to meet them on the battlefield. Considering the "Ice and Fire" referenced in the book series title, it seems like a pretty good bet that Daenerys Targaryen (Emilia Clarke) and her dragons will be the "fire" in that equation. Other than that, your guess is as good as ours.
Game of Thrones season 7 debuts on July 16, 2017. If you haven't read it yet, be sure to check out our breakdown of the most recent trailer.