'Glow' Review: Netflix's Lady Wrestling Drama Is Empowering And Surprising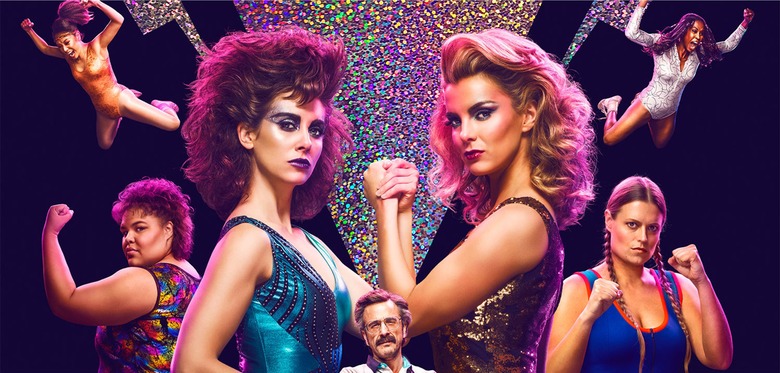 I'm not what you would call a fan of wrestling. The idea of people so obviously pretend-fighting in a ring in such dramatic fashion just seems so very silly. And bro-y. Not even Mickey Rourke's dramatic comeback in The Wrestler, which illuminated the heart and camaraderie of the sport, made me change my mind about it. So when the buzz started rolling in about Glow, the new Netflix series highlighting a makeshift all-women wrestling crew, my eyes instantly rolled to the back of my head.
I had just assumed that this newest iteration of a wrestling narrative would surely feature women in skimpy duds, flashing score cards for the "real" wrestlers, the men, in the ring. But no, Glow is actually legit. It centers women and gives them agency where you least expect it. In fact, the men are actually the supporting players in this story.
Again, my view of women in the wrestling narrative are 1) score card holders, 2) women in the stands cheering for their men, or 3) the women hanging back at home, watching the kids — all marginalized tropes. But in Glow, these women — misfits, Goth chicks, recent moms, and more filled with ambition — are driving the narrative. And they're wonderfully diverse. In fact, their varied interests, cultural backgrounds, and personalities instantly made me think of another Netflix show, Orange is the New Black (coincidentally, OITNB creator Jenji Kohan executive produced Glow, which definitely explains some things).
Like OITNB, the '80s-set Glow highlights a group of self-motivated women from various walks of life who are forced to come together in one extraordinary setting, provoked by their shared feelings of isolation, lack of acceptance, and search for validation and success. But unlike OITNB, these women want to be here. Except they thought they were all auditioning to be a part of some unknown but promising production on which they were resting their acting careers. They soon learn that their auditioning director Sam (Marc Maron) had another plan in mind — an all-women wrestling show.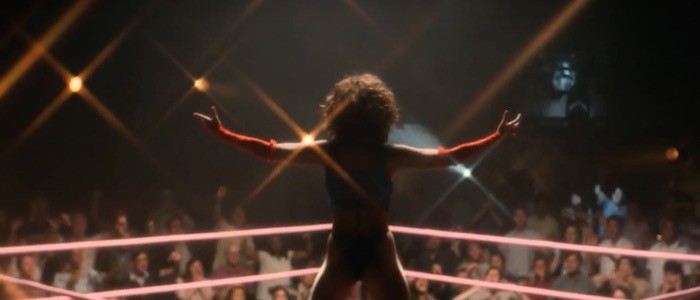 Oh no, these women have zero wrestling background, or even sports experience for that matter. But what they do have is drive. So they put on their color blocked leotards and leggings with stirrups, spray their bangs so much that they stand straight above their heads, and work their asses off to figure out this whole wrestling thing. As a result, camaraderie is formed in a sport that hadn't previously written them in.
But it's not just about the women collective. It's about each of them, determined to make their own mark, find the success that matters to them. Though the plot is centered on Ruth Wilder (Alison Brie), we soon learn that there's more lying beneath the surface of each of the women she meets throughout production. Ruth is a down-on-her-luck actress, tired of the unremarkable roles she's been up for, consistently falling under the radar of anything substantial. Essentially, she's looking for her big break.
Thus kicks off the plot of Glow. Similar to OITNB, Ruth's story is the gateway to introducing friend, and later arch nemesis, Debbie (Betty Gilpin), Cherry Bang (Sydelle Noel), Carmen (Britney Young), Arthie (Sunita Mani), Tamme (Kia Stevens), Reggie (Marianna Palka), Sheila aka "The She-Wolf" (Gayle Rankin), Jenny (Ellen Wong), and more women characters on the cusp of greatness. In doing so, we get a little sneak peek at each of these women's quirks and backgrounds, which is essential to portray a more inclusive feminist narrative.
But fans looking for a more in-depth analysis of each women's (outside of Ruth and even Debbie) character, similar to how Kohan presented the women of OITNB, won't get that, at least in this first season of Glow.  In fact, while the cast is nicely diverse, several of the lesser-seen characters of color are subjected to stereotypical tropes. In the name of comedy, so to speak. I'll explain.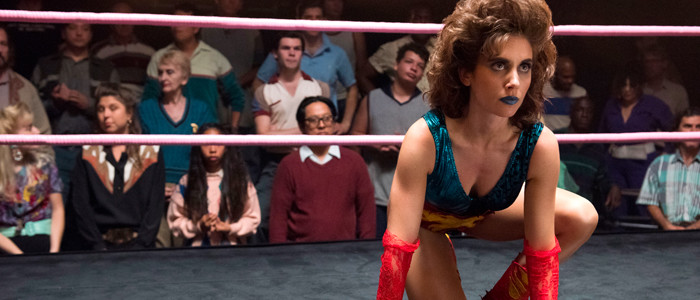 As many already know, acting auditions are brutal. Acting auditions for people of color are even worse, where they are asked to perform stereotypes that mainstream audiences are more comfortable seeing. In that sense, watching Arthie being told in an audition that she needs to be more like the destructive Native American images we see far too often in mainstream media (including The Unbreakable Kimmy Schmidt), is indicative of what a real audition, especially in '80s Hollywood, would look like. It's hard to watch because Mani perfectly portrays Arthie's acknowledgement of what she's being told, while at the same time, her exhaustion of this request. In just a few seconds with her reaction, we know that this is not something new to her. But without a beat, she obliges. The same goes for Tamme, and other ethnic characters. While it's necessary to show this, it's unfortunate that these are the few scenes they're in where they are the stars. Kohan seems committed to the idea that in order to present characters of color, audiences need to first be lured in through the point of view of a white woman character.
And, judging by the success of her other Netflix show, she may not be wrong when it comes to narratives to which she is attached. With audiences looking forward to season 6 of OITNB, the conversation has moved away from Piper (Taylor Schilling) and folks are now celebrating and discussing the greatness of Danielle Brooks as Taystee. That said, I am looking forward to seeing whose stories get told in the next season of Glow, and to see where the story goes. Particularly, Cherry Bang's (I just love saying her name) story left off with a serious cliffhanger this first season, so I am anxious to see more of her.
Oh, and sinceGlow is set in the '80s? Which means the soundtrack is totally boss. I'm talking Journey, Patti Labelle, Sylvester, The Go-Gos, and more. It's hard not to sing along to every episode. It adds to the thrill of each chapter, infuses it with its own anthem. I'm here for it.