'Deep Blue Sea' Sequel Coming To The SyFy Channel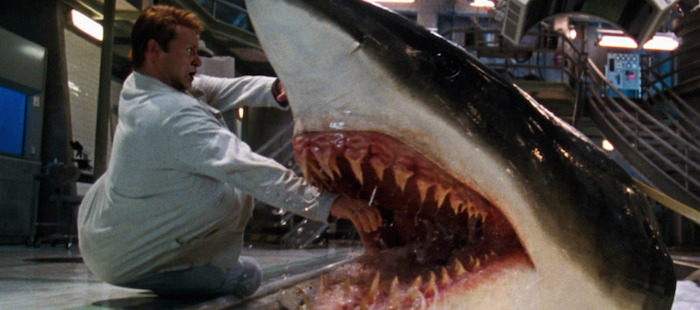 In 2009, we were deprived of a straight-to-DVD Deep Blue Sea with surgically enhanced sharks equipped with machine guns and torpedoes. It was a great loss, no question. Now, a sequel to Renny Harlin's 1999 shark attack semi-classic is happening, but it's not going to theaters or straight to DVD. It's coming to the SyFy channel.
Below, learn more about the Deep Blue Sea sequel.
Moviehole learned the sequel is shooting in Cape Town at the moment. Darin Scott (House Party: Tonight's the Night) is directing Michael Beach, who's in next year's Aquaman, in the sequel.
While not as exciting as the concept of weaponized sharks, Deep Blue Sea 2 is about a character named Dr. Klaus Van Etten who experiments on Bulldog sharks, despite protests from Misty and her gang of marine experts. Huge surprise: the Sharks get set free and wreak havoc. And really, that's all the set-up you need, right?
Don't expect any cameos from the cast members that survived the first movie. While the canceled iteration of the Deep Blue Sea sequel was at Warner Bros., SyFy – who have done very well with their Sharknado movies – is producing the sequel. They did the same for the Lake Placid sequel a few years back, although we're still waiting on another sequel for that series.
No other cast members have been announced at this moment, but Bloody Disgusting has a pic from the set, confirming shooting is underway. Years ago, Jack Perez (Mega Shark vs. Giant Octopus) was going to direct the sequel. He said his sequel would've been influenced by Predator and Sgt. Rock:
The script is about this scientific research ship that is seized by Somali pirates, and a team of Navy SEALs have to go in and take them out. The whole ship is basically a gigantic floating laboratory, with a maze of tunnels that the sharks can travel through that open up into tanks. My thinking was that this was Sgt. Rock vs. sharks, so I developed this platoon kind of based on my favorite Sgt. Rock characters. To a certain degree, it was similar to what they did in Predator; there were definitely echoes of that sort of motley group.
Warner Bros. canned the $5 million production after the DVD market took a nosedive. Warner Premiere also wasn't sure if pulling off the sequel for the money they had was "physically possible." That version of Deep Blue Sea came very close to happening. Eight years later, we're now getting the SyFy channel sequel, which probably is not ideal for fans of Harlin's fun killer shark movie.