'Valerian' Opening Scene Will Play Before 'Spider-Man: Homecoming' In Select Theaters [Updated]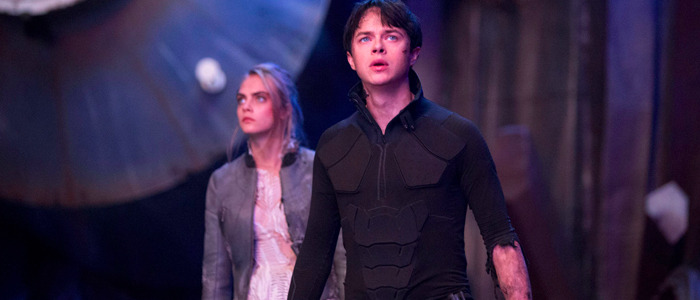 Update: A new clip from the film has arrived online and we've added it below.
Ever since the first trailer for The Fifth Element director Luc Besson's sci-fi film Valerian and the City of a Thousand Planets premiered, I had a sinking feeling that the movie could be one of those films that's beloved by the people who seek it out, but had the potential to be largely ignored by general moviegoing audiences. I wouldn't be the least bit surprised if it bombs at the box office but ultimately gains a cult classic reputation on home video.
But it looks like the film's distributor is doing everything it their power to avoid that outcome, and they've made a pretty savvy move to make sure as many people as possible know that Valerian exists: the entire unedited opening scene will play in front of Marvel and Sony's Spider-Man: Homecoming in select theaters next week.
According to a press release, the never-before-seen Valerian opening scene, "which details the creation of the film's Space Station Alpha, will appear during the trailer section [before Homecoming begins] and Besson's spectacular vision of the future will be presented exclusively in 3D and Premium Large Format." Peter Sciretta, who has seen the film, says the scene is set to a familiar song and filled with dozens of alien creatures from around the galaxy.
This scene will be attached to Homecoming starting with its earliest public screenings, which begin on July 6, 2017. Participating theaters include AMC (in Dolby Cinema), B&B Theaters (in Grand Screen Large Format), Cinemark (in Cinemark XD and RealD 3D), Emagine Entertainment (EMAX Large Format), Harkins Theaters (Ciné Capri Large Format and Ciné 1 Large Format), and select regional circuits nationwide.
Seems to me like whoever orchestrated this deal should get a raise. Homecoming is obviously going to have a lot of eyeballs on it, and for a smaller film like Valerian, having a captive audience who (theoretically) aren't fighting off any distractions could be just what it needs to boost awareness. The movie has earned mixed-to-positive reviews so far, with critics praising its stellar visuals and its use of 3D. I can't wait to see it for myself. Be sure to check out the most recent trailer if you missed it.
And if you want to see more, here's a new clip from the film:
In the 28th century, Valerian (Dane DeHaan) and Laureline (Cara Delevingne) are a team of special operatives charged with maintaining order throughout the human territories. Under assignment from the Minister of Defense, the two embark on a mission to the astonishing city of Alpha—an ever-expanding metropolis where species from all over the universe have converged over centuries to share knowledge, intelligence and cultures with each other. There is a mystery at the center of Alpha, a dark force which threatens the peaceful existence of the City of a Thousand Planets, and Valerian and Laureline must race to identify the marauding menace and safeguard not just Alpha, but the future of the universe.
Valerian and the City of a Thousand Planets opens on July 21, 2017.