'Wonder Woman' Leaps Past 'Batman V. Superman' As The Highest-Grossing DCEU Movie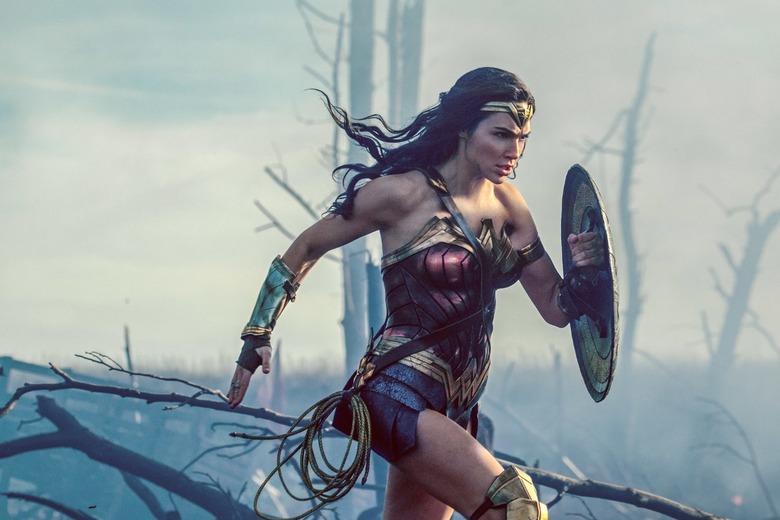 Don't mess with Diana of Themyscira. Wonder Woman has shattered box office records as the highest-grossing live-action film directed by a woman, and now it's making leaps and bounds past its DC Film predecessors.
In just four weeks, Wonder Woman breezed past the 14-week run of Suicide Squad and has has become the highest-grossing DC Extended Universe movie, beating Batman v Superman: Dawn of Justice's 12-week run just before the weekend.
Wonder Woman has thus far made $330.533 million domestically, just above the $330.366 million cumulative gross domestically of Batman v Superman: Dawn of Justice, according to Forbes.
That's a huge achievement considering Wonder Woman's opening weekend at $103 million was significantly lower than Batman v Superman  (37% less, to be specific). Wonder Woman's opening was also 22% smaller than Suicide Squad and 20% smaller than Man of Steel.
This means that the female-led superhero flick has been growing on word of mouth, urged on by acclaim from critics and superhero fans alike.
Here's the breakdown between the four DCEU films that have been released since the universe kicked off with Man of Steel in 2013:
Wonder Woman (4 weeks): $330.533 million, with an estimated $331 million to $332 million for this holiday weekend
Batman v Superman: Dawn of Justice (12 weeks): $330 million
Suicide Squad (14 weeks): $325 million
Man of Steel (14 weeks): $291 million
We can't be sure of where Wonder Woman's international performance will end up just yet, but these domestic numbers signify that Patty Jenkins' film could be the DCEU's first billion-dollar movie worldwide before it leaves theaters in a few months.
It's encouraging news for Wonder Woman fans, as well as the DCEU itself, which seemingly didn't hold big expectations for the film before it hit theaters. But now Warner Bros. can learn from their mistakes and take advantage from Wonder Woman's success by revamping the DCEU's gloomy tone and characters. "There are several lessons to take away from Wonder Woman, but the most important one may not be the most obvious," we wrote in our article reflecting on how Wonder Woman's success can impact the DCEU. "The biggest lesson to learn from Wonder Woman is that sincerity is no longer a dirty word."
Now, with reshoots underway on Justice League, hopefully the next DC Film can repeat optimistic and sincere tone of Wonder Woman, and repeat its critical acclaim and box office success.
Wonder Woman is currently in theaters. Justice League hits theaters November 17.