Fox Schedules Six Mystery Marvel Movies Through 2021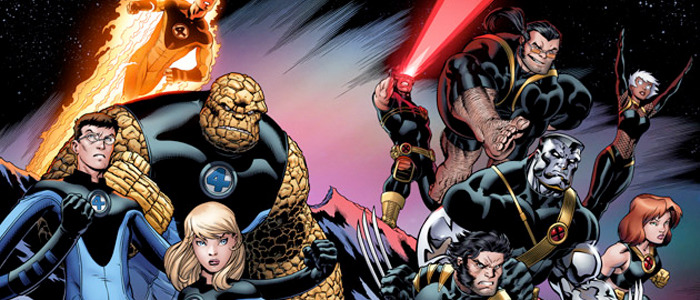 20th Century Fox has had their hits and misses when it comes to superhero movies, but there's no overlooking the fact that the studio has some of the biggest critical and commercial hits at the box office outside of Marvel Studios. Despite the well-documented messy chronology of the X-Men series, Fox is on a roll this year on the big and small screen with the genre-transcending Logan and Deadpool, as well as the visual acid trip that is FX's Legion.
The string of successes has apparently given Fox a confidence boost, prompting the studio to put their eggs in their Marvel basket and schedule six untitled superhero movies through 2021.
20th Century Fox has set six release dates for their Marvel property movies on June 7, 2019 November 22, 2019; March 13, 2020 June 26, 2020, October 2, 2020, and March 5, 2021.
This is in addition to their planned releases for The New Mutants on April 13, 2018, Deadpool 2 on June 1, 2018, and X-Men: Dark Phoenix on November 2, 2018.
Fox owns the movie rights to the X-Men and Fantastic Four characters, and while it has seen success with their X-Men series, the studio's two attempts at adapting Fantastic Four have been critical failures and box office disappointments. While the X-Men series is at an all-time high right now because of the glowing reception to Logan, it only just escaped the backlash from one of its worst-reviewed films with X-Men: Apocalypse.
But thanks to the success of the studio's TV properties, present and upcoming — and its utter commitment to sticking to one of the most confusing movie timelines ever — there's hope for 20th Century Fox yet.
So, let's theorize what these six mystery Marvel movies could be. The majority of them will likely be X-Men films and their spin-offs, but could one of them be that Fantastic Four reboot we heard about earlier this month? Here are some possibilities:
X-Force: The big screen telling of Marvel's team of militant mutants has been in development for a while, and will likely be Fox's next new X-Men film apart from the sequels to its big-hitters. The R-rated team-up film led by Deadpool (Ryan Reynolds is confirmed to appear) and Cable, X-Force will be the violent, fast-and-loose alternative to the more straight-laced X-Men.
Deadpool 3: As Fox's biggest critical hit recently apart from Logan — and the movie that started the R-rated wave — Deadpool 3 is all but confirmed.
Storm solo movie: This is more wishful thinking on my part, but if any one of the X-Men characters deserve a solo movie, it's Storm. A rich origin story involving descendents of African priestesses, villagers worshipping her as a goddess, and an ascent to Queenhood, it's a story that has not yet been seen on the big screen — until Black Panther, perhaps.
New Mutants 2: 20th Century Fox is loading New Mutants with a stellar cast, and seems to be banking on this film to be their next-gen popular mutants. I'm not sure what to make of it yet — though news that director Josh Boone plans to draw inspiration from the horror genre is intriguing — but unless it's a huge box office bomb, it'll likely get a sequel.
Gambit: Who knows what's happening with this Channing Tatum-led film? But with producers and cast still touting this project, it's bound to get a release date sooner or later.
Fantastic Four reboot (again): It will certainly be a reboot, especially since Michael B. Jordan has jumped ship to the other side of the Marvel aisle in Black Panther. It's been suggested that Fantastic Four could be rebooted as a period piece — the traditional cheesiness of the stories may suit a psychedlic '60s setting better — and that would be an interesting concept. In fact, this was the angle Ant-Man director Peyton Reed was going take back when he was attached well over a decade ago.
What X-Men or Fantastic Four movies do you think will fill the six slots?