'Breathe' Trailer: Andrew Garfield Stars In Andy Serkis' Directorial Debut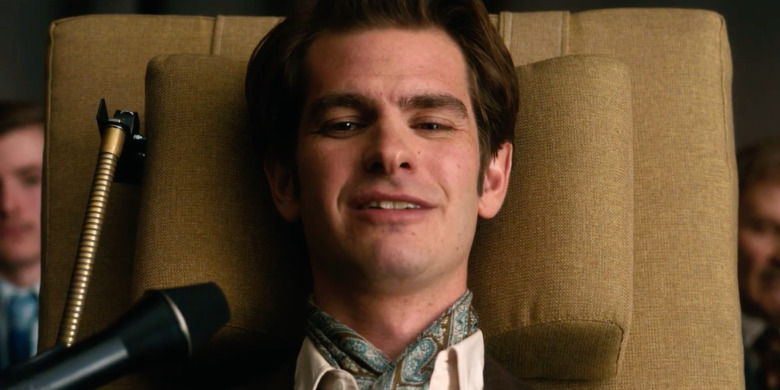 Over the years, actor Andy Serkis has developed some major projects to direct. An adaptation of George Orwell's Animal Farm and Fox's update on the fairy tale Rumpelstiltskin have both interested the War For the Planet of the Apes star. He is, of course, in post-production on what we thought was going to be his directorial debut, Jungle Book: Origins, which was delayed once or twice and received assistance from Alfonso Cuarón (Gravity). And that brings us to actor's first directorial effort to actually hit theaters, Breathe, which is based on a true story and stars Andrew Garfield and Claire Foy.
Below, watch the Breathe trailer.
Recent Oscar nominee Garfield plays Robin Cavendish in the drama. At the age of 28, Cavendish contracted polio, leaving him paralyzed from the neck down. Against the doctor's orders, Cavendish's wife, Diana (Claire Foy), took him home. The doctors told him he only had three months to live, but he lived until the age of 64. Cavendish was one of the longest-living polio survivors in Great Britain, and he was a great advocate for the disabled. He assisted in making devices to help the paralyzed, including an innovative wheelchair. Cavendish and Diana's son, John Cavendish, produced Breathe.
Serkis' debut will premiere at the BFI London Film Festival. It looks very sincere, which is always refreshing, but the trailer seems to show too much. The three minutes appears to cover most of the true story beat-by-beat. William Nicholson, who co-wrote Gladiator, Everest, and Tom Hooper's adaptation of Les Misérables, wrote the script.
We'll soon see the great Andy Serkis in War for the Planet of the Apes, about which just about everyone is over the moon. Before directing Breathe, Serkis did some second unit work on The Hobbit movies. The director's Jungle Book movie is still set to come out next year.
Handsome, adventurous and brilliant, Robin (Andrew Garfield) has his whole life ahead of him when he is paralysed by polio. Against all advice, Robin's beautiful wife Diana (Claire Foy) brings him home; where her devotion, intimacy and witty determination transcends his disability and sets him free. Together they refuse to be imprisoned by his suffering; transforming the lives of others with their humour, courage and lust for life. BREATHE is a heart-warming and highly emotional celebration of bravery and human possibility; where deep friendship is rooted in honesty and seeing the funny side of life. A love story about living every breath as though it's your last.
Breathe opens in theaters October 13.