'Atomic Blonde' Clip: Charlize Theron Gets Lethal With A Shoe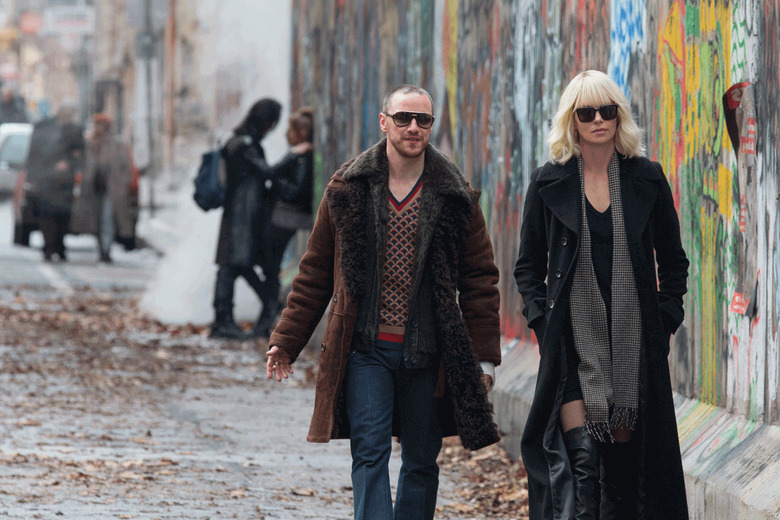 Charlize Theron's last action movie, The Fate of the Furious, was disappointing. She didn't get in on the action much, as her villainous hacker mostly sat around computer screens, threatening Dominic Toretto. Theron's next action movie, Atomic Blonde, doesn't look like it's letting any of her talents go unused. Based on early reviews, Agent Lorraine Broughton might be another killer character from Theron, who's already given us one of the great action heroes of the century in Mad Max: Fury Road.
Below, watch a new Atomic Blonde clip.
In David Leitch's (John Wick) film, based on Antony Johnston and Sam Hart's graphic novel The Coldest City, Broughton heads to Berlin after the death of a spy leads to a list of agents and codenames getting in the hands of a KGB operative. The movie co-stars James McAvoy, Sofia Boutella, Eddie Marsan, Toby Jones, and John Goodman.
Focus Features is releasing a number of clips and footage from the action movie as part of a campaign they're calling #AtomicSummer. It hopefully won't reveal too much from the movie, including a lauded 10-minute long fight scene done in a single take. A new Atomic Blonde clip gives a taste of the film's action:
Hell in heels. Watch Chapter 3. #AtomicSummer #AtomicBlonde pic.twitter.com/m0vXWHCtzo

— #AtomicBlonde (@atomic_blonde) June 26, 2017
While John Wick can kill with a pencil, Lorraine Broughton can kill with a heel. Gotta love it when everyday items – in this case, shoes – are used as a weapon in action movies. We get to see what a character is capable of, even when they don't have a gun, and how resourceful and lethal they are. It makes the action a little more unpredictable, too.
Oscar® winner Charlize Theron explodes into summer in Atomic Blonde, a breakneck action-thriller that follows MI6's most lethal assassin through a ticking time bomb of a city simmering with revolution and double-crossing hives of traitors.
The crown jewel of Her Majesty's Secret Intelligence Service, Agent Lorraine Broughton (Theron) is equal parts spycraft, sensuality and savagery, willing to deploy any of her skills to stay alive on her impossible mission. Sent alone into Berlin to deliver a priceless dossier out of the destabilized city, she partners with embedded station chief David Percival (James McAvoy) to navigate her way through the deadliest game of spies.
A blistering blend of sleek action, gritty sexuality and dazzling style, Atomic Blonde is directed by David Leitch (John Wick, upcoming Deadpool 2). Also starring John Goodman, Til Schweiger, Eddie Marsan, Sofia Boutella and Toby Jones, the film is based on the Oni Press graphic novel series "The Coldest City," by Antony Johnston & illustrator Sam Hart. Kurt Johnstad (300) wrote the screenplay.
Atomic Blonde opens in theaters July 28.