'Jumanji: Welcome To The Jungle' Trailer: It's Not All Fun And Games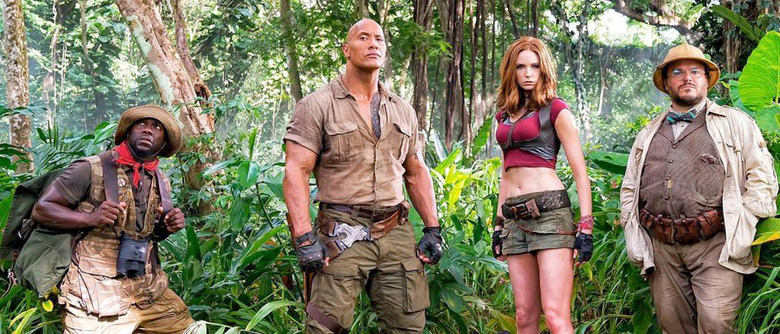 How do you go about updating Jumanji for 2017? By transforming that magical (and dangerous) board game of the title into a video game, of course. Jumanji: Welcome to the Jungle is a sort-of sequel to Joe Johnston's 1995 film, with Dwayne Johnson, Kevin Hart, Jack Black, and Karen Gillan stepping in for Robin Williams. Since that film has its fair share of nostalgic fans, the first trailer for this sequel/reboot is surely going to undergo some scrutiny.
So let's get the scrutinizing started.
Jumanji: Welcome to the Jungle expands on that basic premise in a fairly clever fashion: four teenagers discover an old video game, make the mistake of playing it, and find themselves sucked into a hostile jungle environment and inhabiting avatar bodies based on characters in the game. Naturally, these avatars are played by Johnson, Hart, Black, and Gillan. Since I like all four of these actors to varying degrees, I'm curious to see how they carry this movie...and how they'll play teenagers playing adults.
Chris Van Allsburg's original children's book was really just a clever excuse to show off his evocative and lovely illustrations and the original film did a decent job of expanding that simple premise into an actual movie. I'm not as in love with it as some children of the '90s are, but it's a spirited family adventure with teeth that are just sharp enough to lend some real edge and danger to the proceedings.  I'm curious to see how Jake Kasdan, a director best known for his comedies (Walk Hard, Bad Teacher, and Sex Tape) approaches this material...and if he'll provide some actual stakes alongside the gags and CGI animals.
Jumanji: Welcome to the Jungle is set to to open on December 20, 2017, so expect this to be one of the top picks for your literal or hypothetical children this holiday season.
In a brand new Jumanji adventure, the tables are turned as four teenagers are sucked into Jumanji's world – pitted against rhinos, black mambas and an endless variety of jungle traps and puzzles. To survive, they'll play as characters from the game: meek Spencer becomes a braveexplorer (Dwayne Johnson); hulky jock Fridge becomes a tiny genius (Kevin Hart); It-girl Bethany becomes a bookworm professor (Jack Black); and unathletic Martha becomes an amazonian warrior (Karen Gillan). To beat the game and return to the real world with their lives, they'll have to start seeing things in an entirely different way.