'A Bad Moms Christmas' Trailer: The Holidays Just Got Raunchier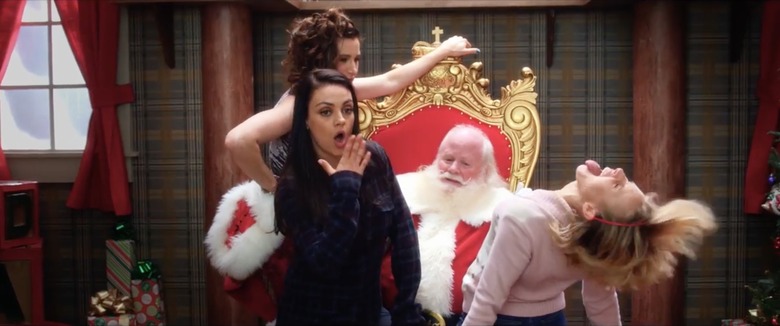 Who said that only men were allowed to star in raunchy comedies that hit big at the box office and receive sequels faster than you can blink? A Bad Moms Christmas, the follow-up to the 2016 hit Bad Moms, arrives later this year and as the title implies, Mila Kunis, Kristen Bell, and Kathryn Hahn are back and are prepared to behave badly during the most wonderful time of the year.
You can watch the first A Bad Moms Christmas trailer below, but be forewarned: this is the red band trailer and foul language, shouted by both adults and children, is on full display. If you're at work, plug in some headphones.
Once again written and directed by Jon Lucas and Scott Moore, the sequel finds the trio of moms from the original movie fighting to reclaim the fun of Christmas. After all, they know they're the key to a successful holiday season and they're tired of doing the heavy lifting for ungrateful family members! Drinking, partying, and all kinds of general bad behavior ensue. Of course, this is all further complicated by their own mothers arriving in town.
I didn't see the original Bad Moms and don't have a strong opinion on this trailer, but the first movie was a surprise smash, grossing $113 million at the domestic box office alone. To give you an idea of the speedy turnaround for this sequel, the original opened less than a year ago. STX clearly wants an ongoing franchise here. And can you blame them?
Interestingly, this is the second comedy sequel arriving this holiday season revolving around the parents of the lead characters coming home for the holidays. I may be the only one watching the unintentional showdown between A Bad Moms Christmas and Daddy's Home 2, but believe me, I am watching!
Here's the official synopsis:
A BAD MOMS CHRISTMAS follows our three under-appreciated and over-burdened women as they rebel against the challenges and expectations of the Super Bowl for moms: Christmas. And if creating a more perfect holiday for their families wasn't hard enough, they have to do all of that while hosting and entertaining their own mothers. By the end of the journey, our moms will redefine how to make the holidays special for all and discover a closer relationship with their mother
A Bad Moms Christmas opens on November 3, 2017. The full cast includes Mila Kunis, Kristen Bell, Kathryn Hahn, Christine Baranski, Susan Sarandon, Cheryl Hines, Jay Hernandez, Wanda Sykes, Peter Gallagher, Justin Hartley, and Oona Laurence.