'I Do...Until I Don't' Trailer: A New Comedy From 'In A World...' Director Lake Bell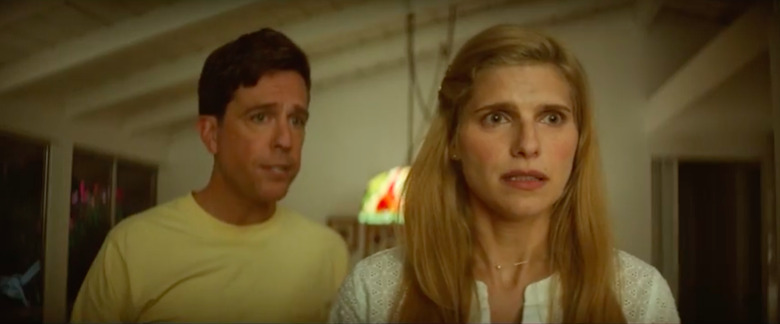 Writer/director Lake Bell's second feature, I Do...Until I Don't is her follow-up to the delightful 2013 film, In a World... While her first film was about the world of voiceover actors and a daughter and her father, her second is about marriage and a documentary filmmaker creating a little chaos. Bell (and the doc filmmaker) follows a trio of couples, played by Bell and Ed Helms, Paul Reiser and Mary Steenburgen, and Amber Heard and Wyatt Cenac.
Below, watch the I Do...Until I Don't trailer.
Bell has called her new film an "an unromantic romance." The dramedy was originally called What's the Point? (And Other Fair Questions About Marriage), which she started discussing four years ago. She shot the film last spring, but she didn't bring it to the Sundance Film Festival, where In a World... got a great reception, or any other recent festival. I Do...Until I Don't will make its debut in theaters Labor Day weekend.
A documentary filmmaker (Dolly Wells) believes the idea of marriage has grown old and outdated, and that a seven-year contract with a renewal option makes more sense. The three married couples she follows to illustrate her point couldn't be more different.
I Do...Until I Don't has a likable cast, similar to the ensemble of In A World... The cast was a part of that film's charm and that might be the same case for this movie as well. Each couple looks like they'd be fun and flawed enough to star in their own movie.
Here's the synopsis:
In Vero Beach, Florida, a trio of couples at various points in their relationships become the subjects of a film about marriage being an antiquated idea that needs a reboot: Why not turn marriage into a seven-year deal with an option to renew?
For Alice and Noah (Lake Bell, Ed Helms), more than a hint of boredom is setting in as they approach their first decade together and the prospect of parenthood. Meanwhile, Alice's funky sister Fanny (Amber Heard) is sure her "open marriage" to Zander (Wyatt Cenac) is the key to their free-spirited happiness. And then there's Cybil and Harvey (Mary Steenburgen, Paul Reiser), a pair of empty-nesters wondering what the next stage will be.
As the manipulative filmmaker (Dolly Wells) attempts to show how marriage is outmoded, the couples she interviews discover the "do's" and "don't's" in their own relationships.
I Do...Until I Don't opens in theaters September 1.