'Good Time' Trailer: An Unrecognizable Robert Pattinson Races Against Time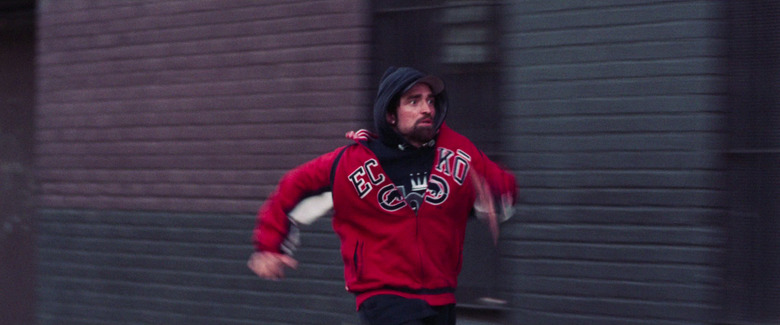 Call it the Pattin-aissance. The Rob-aissance? Whatever you want to describe it as, Robert Pattinson is fast becoming one of the most interesting actors of his generation.
After a stunning supporting role in The Lost City of Z, where a gaunt Pattinson was barely recognizable, the former heartthrob is following it up with the electrifying trailer for Good Time, a film from the most exciting indie studio operating today, A24.
It looks like Pattinson's off-the-beaten-path choices post-Twilight have finally paid off. The second trailer for Good Time offers a dynamic counterpoint to the more somber first trailer, which presented the film as a tragic picture of low-class misfortune. This trailer, however, concentrates on the race against the clock which Pattinson's character, Constantine, finds himself on as he desperately looks for seedy ways to get his mentally disabled (Benny Safdie) brother out of prison.
The trailer seems to imply darker forces are at hand in the jail where the brother, Nick, may be taken advantage of. As the jail warden tells him, "This place where we are now can be a lot of fun if you let it. You're going to have a good time."
Here's the official synopsis for Good Time below:
After a botched bank robbery lands his younger brother in prison, Constantine embarks on a twisted odyssey through the city's underworld in an increasingly desperate attempt to get his brother out of jail. Over the course of one night, Constantine finds himself on a mad descent into violence and mayhem as he races against the clock to save his brother and himself, knowing their lives hang in the balance.
The film first made a splash at the Cannes Film Festival, and have earned the directing team, Josh and Benny Safdie, the attention of Martin Scorsese, who will be producing the brothers' next feature.
Good Time also stars Jennifer Jason Leigh, Barkhad Abdi (finally getting another key role after his Oscar-nominated role in Captain Phillips!), and the shock of bleach-blonde hair on top of Robert Pattinson's head.
I'm anticipating this film after seeing Pattinson's transformative performance in Lost City of Z, where he impressed me not just with his weight loss, but with his hidden potential to be a great character actor. He looks like he'll be bringing that same level of magnetism and willingness to put on an unflattering performance in Good Time. The rave reviews for Pattinson in this film — which some say is the best performance of his career — are encouraging too.
Good Time hits theaters on August 11.