Marvel Teases 'Inhumans' Trailer With Brief Glimpses Of New Footage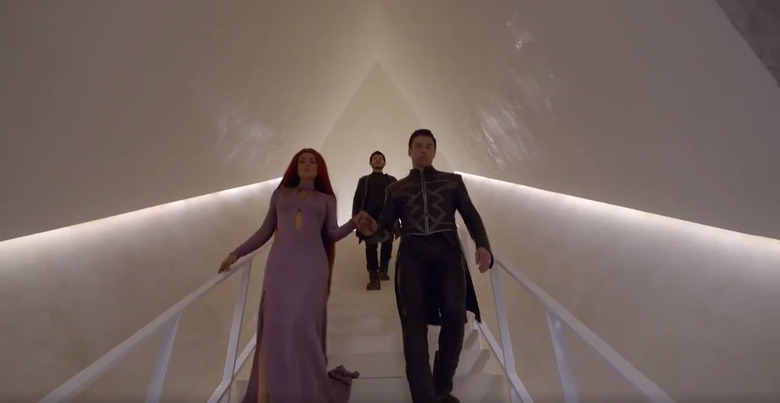 The full trailer for Marvel's The Inhumans won't be released until Thursday, but Marvel treated us to flashes of new footage in a teaser for the trailer today.
There's not much footage here (about 11 seconds), but it is our first look at this long-gestating project. Let's hope the rest of the series lives up to the show's high aspirations.
The wait is almost over. This Thursday, check back for the first trailer from "Marvel's #Inhumans"! @theinhumans pic.twitter.com/phelZa5TCb

— Marvel Entertainment (@Marvel) June 27, 2017
Don't adjust your volume. The teaser depicts three soundless scenes in which Bolt and Medusa walk down an elegant stairway, a character whose face we cannot see walks to a lush Hawaiian cliff, and Maximus fearfully trying to stop someone as armed soldiers back him up.
These three cryptic scenes match the synopsis, and teaser, ABC previously released for Inhumans:
After the Royal Family of Inhumans is splintered by a military coup, they barely escape to Hawaii where their surprising interactions with the lush world and humanity around them may prove to not only save them, but Earth itself.
The pilot will likely see the Inhumans Royal Family, led by the wordless Black Bolt, in their natural environment of the royal city of Attilan, as political intrigue, possibly incited by Black Bolt's ambitious brother Maximu,s brews around them. The intrigue comes to a head via a military coup, causing the Royal Family to take refuge in Hawaii, where the majority of the show is purported to take place.
I'll admit, I have reservations about Inhumans. It's certainly an ambitious endeavor, but it's easy to see the show falling victim to its Game of Thrones-meets-Lost ambitions. With a story that's as hard to bring to the screen as Inhumans, which depicts a community of isolated, hyperintelligent superbeings who could prove hard to empathize with, a primetime TV series that tries to mimic more lavish prestige cable dramas may not be the best strategy to realize these odd characters.
Marvel's Inhumans stars Anson Mount as Black Bolt, Iwan Rheon as Maximus, Serinda Swan as Medusa, Eme Ikwuakor as Gorgon, Isabelle Cornish as Crystal, Ken Leung as Karnak, Ellen Woglom as an undisclosed character, Sonya Balmores as Auran and Mike Moh as Triton.
Inhumans was initially planned as a Marvel Cinematic Universe film, but since transformed into a TV series created by Scott Buck along with Marvel's Jeph Loeb and Jim Chory. Buck serves as showrunner. Roel Reiné directed the first two episodes. The series is a Marvel and IMAX project and is co-produced by Marvel Television and ABC Studios.
The first two episodes will be released in IMAX theaters for a two-week period from September 1. The rest of the series will premiere on ABC on September 29.