'A Fistful Of Fingers': The Delightfully Goofy Beginning Of Edgar Wright's Career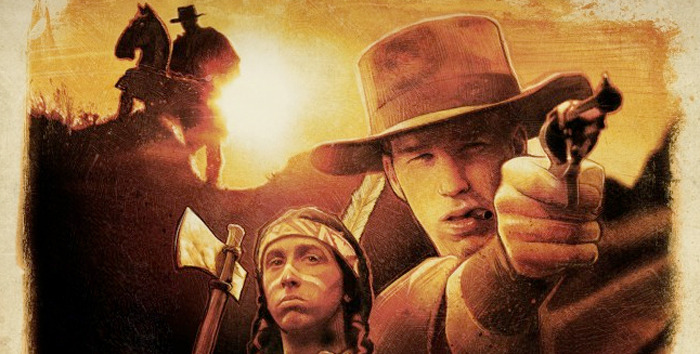 This week brings Baby Driver to the big screen, the latest film from director Edgar Wright. Leading up to the release of the mesmerizing, meticulously crafted foot-tapping masterpiece of musical action, we wanted to take a look back at the director's very first film. No, we're not talking about Shaun of the Dead, because before that, a 20-year old Edgar Wright got behind the camera for a $15,000 movie that was actually a remake of a movie he originally shot on VHS.
A Fistful of Fingers is a spaghetti western spoof that takes all the signature western style of director Sergio Leone (The Good, the Bad and the Ugly) and mixes it with the silliness of Monty Python and Mel Brooks. Edgar Wright shot the film on 16mm and it debuted back in 1995. It was first screened in the United States in 2015 at Cinefamily in Los Angeles, but just earlier this month, the wonderful Music Box Theatre in Chicago was treated to the second ever domestic screening. I was personally on-hand to finally check this film off my list, and I could not have been more pleased with the silliness on display in this parody that has the hints of greatness we would get from Edgar Wright in the years to come.
It was June 14 that A Fistful of Fingers played in Chicago to conclude Music Box Theatre's special Edgar Wright film series leading up to the release of Baby Driver. Before the screening, I had just partaken in a 35mm screening of Scott Pilgrim vs the World, just to remind myself how great the graphic novel adaptation was. But it also served as prime viewing material before flashing back to a time when Edgar Wright barely had a budget to make his movies.
Before the film began, Edgar Wright had sent over a personalized video to introduce the movie to the Chicago audience where he gave us some insight into the truly indie nature of his first feature film. Wright explained embarrasingly, "It only just qualifies as a feature because it's 78 minutes long. The original assembly edit of the movie, which is the longest it can possibly be before you've cut anything out, it was 72 minutes long."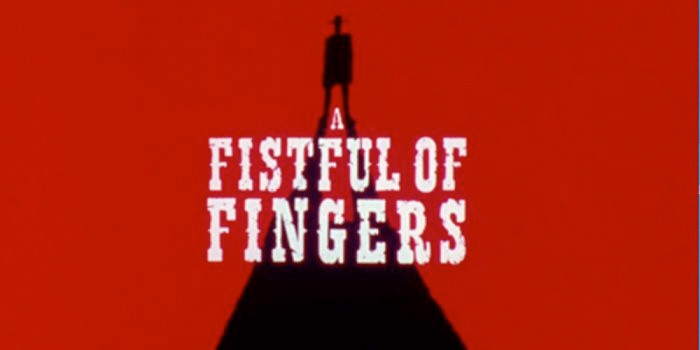 So how did they pad it out to 78 minutes? Well, they added a stylish animated opening credits sequence with classic western flare, complete with our introduction to the score that was a pitch perfect impersonation of Ennio Morricone's revered orchestral work. There was also a pitch black night scene with voiceover added in post-production and a slow-rolling end credits sequence to round it out.
Edgar Wright finished up by lowering the audience expectations so they didn't think they were getting the kind of debut feature delivered by Orson Welles, Steven Soderbergh and Quentin Tarantino, "It's a silly movie. What can I say? All I can say about it is that it's not Citizen Kane. It's not Sex, Lies and Videotape. It's not Reservoir Dogs. But it is the best movie you're about to watch right now."
However, while I was expecting a film that was on par with the kind of student films that I had seen in college, I was pleasantly surprised to find a clever, funny spoof with impressive production quality, hints of the comedy gold that would come from Edgar Wright in the decades that followed, and a gut-busting ending that works best when properly set up by a warm-up assembly of vintage British candy bar commercials and a prank show sketch, which were thankfully provided by the director himself.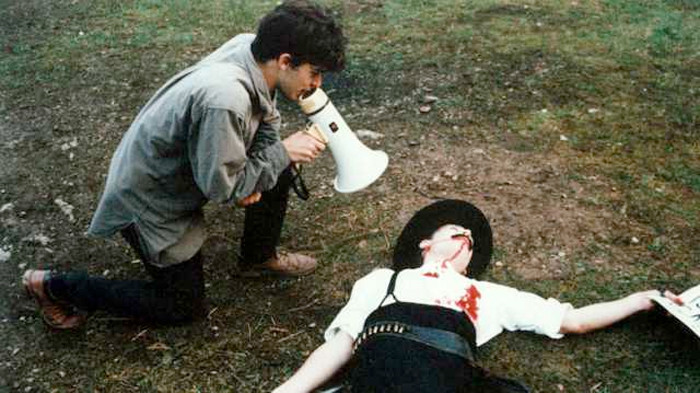 While A Fistful of Fingers is indeed an extremely silly movie, it's also a genuinely entertaining parody that is funnier than the myriad of cheap pop culture exploitations such as Epic Movie, Meet the Spartans, Vampires Suck and other films that attempt to spoof popular film trends, but do nothing more but supply immature, vulgar slapstick and timely pop culture references that will be irrelevant in a couple years.
Whether it's Graham Low's cheesy but outstanding impression of Clint Eastwood throughout the entire movie, the meta gags that include visible boom mic operators and modern automobiles, the purposefully cheap horse props, face-offs with spit and middle fingers, or the jokes that deconstruct tropes of the genre itself, Edgar Wright shows wit beyond his years and an eye for timeless comedy that some studio filmmakers still don't have a grasp on today.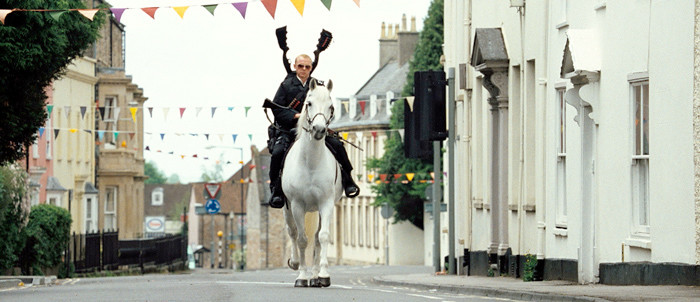 Adding even more enjoyment is the presence of scenes that feel like precursors to the kind of beats we would see in films such as Shaun of the Dead, Hot Fuzz and The World's End. One can't help be reminded of Simon Pegg taking a walk to the shop in Shaun of the Dead or strolling into the sleepy British village of Sandford on a horse in Hot Fuzz when Graham Low's Man with No Name stand-in gallops through town on his fake, fabric horse. Meanwhile, the carefully choreographed, early-Westworld-like bar patrons in one sequence feel like predecessors to the alien invaders of The World's End.
Though A Fistful of Fingers is far different from the films Edgar Wright would go on to direct, his signature style can still be gleaned from this early work. There's still a quick, concise editing pace and camera movements that guide the story as opposed to just following it around. It has all the early threads of the filmmaker who would direct movies that weren't just spoofs, but work that combined a love for genre films and their familiar tropes that are enhanced by memorable characters, masterful comedy, and style to spare. The only thing that could make it more of a clear Edgar Wright film is the presence of a Cornetto ice cream treat, but a Nestle Milky Bar has a similar, perhaps even more amusing presence in the film.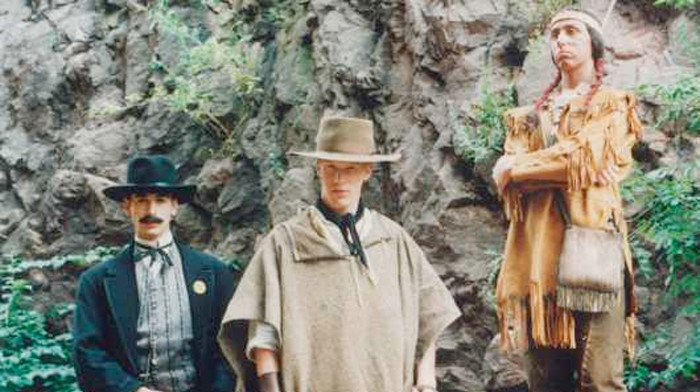 What makes A Fistful of Fingers so delightful is that it's a spaghetti western send-up that respects the genre as much as it makes fun of it. That's what all the great masters of spoof did, from Mel Brooks (Blazing Saddles, Young Frankenstein) to the trio of David Zucker, Jim Abrahams, and Jerry Zucker (Airplane!), and it's a comedic artform that has been destroyed by filmmakers who have nothing better to do than make fun of pop culture for the lowest common denominator of public taste. But in 1995, fresh out of his teenage years, Edgar Wright managed to craft a movie that is on par with classic spoof comedy. We're thankful he did, because it was just the beginning of a career that would captivate us for years to come.
If you're an Edgar Wright fan, make sure you see Baby Driver as soon as possible when it opens on June 28. And if you want to know more about the history and making of Baby Driver, check out Empire's in-depth story on the film right here.