'The Conjuring 3' Is On The Way, Although James Wan Probably Won't Return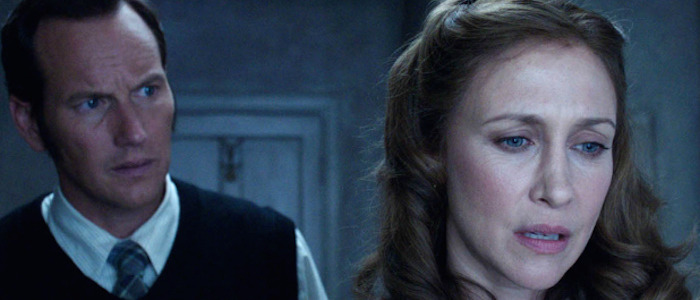 The Conjuring is one of the best horror movies of the 21st century so far and The Conjuring 2 is one of the best horror sequels ever made, so the news that The Conjuring 3 is officially in the works at Warner Bros. is music to my ears. But there's a catch: James Wan will most likely not return to the director's seat.
Deadline reports that screenwriter David Leslie Johnson, who co-wrote The Conjuring 2 and the brilliant trash masterpiece Orphan, has been hired to write the third adventure of Ed and Lorraine Warren. Plot details remain unknown, but it will presumably tackle another "true" case that the infamous husband and wife paranormal investigators tackled during the '60s and '70s. Considering that this formula has led to scary movies with atmosphere to spare, strong box office, and positive reviews, this feels like a template worth following.
However, Deadline also reports that James Wan, who helmed both Conjuring movies as well as Insidious, Saw, and Furious 7, probably won't return. He's currently filming Aquaman, a superhero movie that will keep him tied up for quite some time. However, he'll act as a producer on The Conjuring 3 with Peter Safran, who also produced the previous two movies. Plus, Johnson worked on the Aquaman screenplay, so he's obviously very much in the good graces of everyone involved.
So, who does Warner Bros. get to helm The Conjuring 3? While Wan was exceptionally good at delivering those crowd-pleasing jump scares and ensuring that his horror came in a glossy, summer blockbuster-shaped package, he was unafraid of sentiment and character. The Warrens, played by Vera Farmiga and Patrick Wilson, are the real stars of the Conjuring movies, the rare horror "good guys" who are more interesting than the villains. Wan cares deeply about them and that care is reflected in the films themselves – they're not afraid to slow down for a look at their unusual but sincere marriage. The Conjuring 2 features an extended musical performance from Wilson and it's the kindly weirdly moving beat that you just don't see in most horror movies. Whoever takes over needs to recognize that these movies are good because they're spooky, but they're great because they make us care about the people being haunted by those ghosts and demons.
Anyway, The Conjuring 3 will be the seventh movie in the quietly growing Conjuring-verse, following the first two movies, the spin-off Annabelle, its upcoming sequel Annabelle: Creation, the currently filming The Nun, and the just-announced The Crooked Man. Even as Warner Bros. struggles to build their DC comic book movie universe, they already have another wildly successful cinematic universe growing in-house.