Tommy Lee Jones Will Play Brad Pitt's Papa Bear In 'Ad Astra'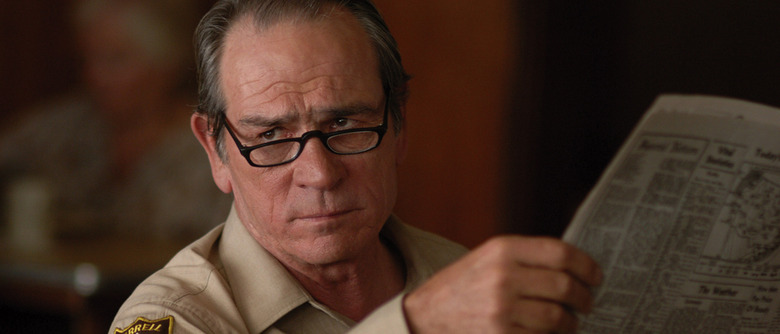 After years of trying to get something going, director James Gray (The Lost City of Z) and Brad Pitt are finally going to work together. Joining them for their space drama, Ad Astra, is Tommy Lee Jones. He'll play a crucial role in the film as the father of Pitt's Roy McBride.
Below, learn more about Gray's next picture.
According to Deadline, Jones is in final negotiations for Ad Astra. In the film, Roy's father goes to Neptune searching for extra-terrestrial life. The mission was a failure for unknown reasons, and Roy's dad never returned home. 20 years after he went missing, Roy goes on a solo mission to search for him and uncover the truth. Along the way, he'll grapple with isolation and maybe some space madness.  (Is anyone else thinking about Space Cowboys at the moment?)
The movie, which Gray co-wrote with Ethan Gross (Fringe), is set entirely in space. With Ad Astra, Gray has said he wants to make a movie that's "the most realistic depiction of space travel" and "almost science fact," not fiction:
I want to try and do something specific and rather different, and the intention is to make a film which is almost science fact, and it takes place entirely in space. I had read about NASA trying to find 'emotionally — what's the right word — 'undeveloped' people to travel to Mars, because being cooped up for a year and a half is very difficult. So the idea that I had was to sort of mix a kind of Conrad-ian story, a 'Heart of Darkness,' with the idea in which NASA has made a miscalculation about one of its astronauts, who cannot handle deep space. So the idea is a kind of mental breakdown in space, and to do it almost like Apollo footage: incredibly realistic — so no sound in space, obviously — and to do it distinguishing itself with the idea that, in a way, human beings need the earth.
Shooting was going to begin next month on July 15, but production got pushed back to September. Gray has been working on the project for years – at one point, he was hoping to shoot Ad Astra in 2014. With Plan B behind it and Pitt and Jones now starring, the stars now seem to be aligning for Gray's project, which is his follow-up to the tremendous The Lost City of Z. Pitt was originally going to star in that movie, which he produced, but after three potential collaborations with Gray failed to come to fruition, we're finally going to see what these two great talents can accomplish together.