Kevin Bacon's 'Tremors' TV Sequel Is Going To Syfy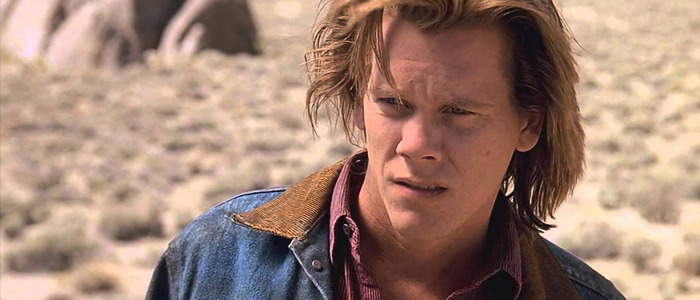 It's been nearly two years since we've heard any updates about the Tremors TV show based on the cult classic sci-fi/horror monster movie, but now its star and executive producer has revealed that the project is not only still in the works, but it has finally found a cable network partner. Kevin Bacon, who starred in the original movie back in 1990 and will appear in the new TV sequel, says the pilot is heading to Syfy.
ScreenDaily spoke with Bacon, who revealed the Syfy connection and said he'd be reprising his role of Valentine McKee in the new show, which picks up 25 years after the events of the first film:
"It's the only character I've ever played that I was interested in exploring 25 years later. [Tremors] is a really good movie. I don't go back and watch my movies but because we were doing this one, I had to go back and look at it. It's just the idea of this loser who is living a very ordinary life and has an extraordinary experience with these monsters and becomes, for a moment, a hero."
Elsewhere in the interview, Bacon praised the high-quality writing that's moved from films to television over the past few years, and explained why this new Tremors project, which was first pitched as a movie reboot, is now being developed as a show instead:
"Audiences are now used to more character development. They want to see Cersei Lannister (in Game Of Thrones) over numerous episodes, having different hair. They want to experience that. It has put a lot of pressure on filmmakers to be able to deliver character development in one hour and 45 minutes or two hours."
I would not have expected Bacon to give a shout-out to Cersei's hair in an interview about a new Tremors show, but here we are.
The actor/producer has teamed with Blumhouse Productions' Jason Blum for this pilot, which is intended to be the start of an eight-episode TV series. That seems like an excellent pairing, since Blum knows how to squeeze more value out of a lower budget than anyone else in the entertainment industry right now. And let's face it: a Tremors show doesn't exactly need a Game of Thrones-level budget to be successful.
It's no surprise that Syfy snapped this up, considering that the company aired a Tremors spin-off series back in 2003 when they were still called the Sci-Fi Channel. For a while, the Tremors movies (there are now five in total, with a sixth apparently on the way) were airing on that channel in a regular rotation, so it's clear that they're hoping this pilot will be good enough to justify a full series order so they can get back in the Tremors business. Andrew Miller (The Secret Circle) wrote the script for the new pilot, but there's no timetable for when we might be able to see it yet.
The original movie basically asked the question, "what if Jaws were set in the desert?" The story follows the residents of a small Nevada town who discover that flesh-eating snake slugs are slithering beneath the sand. The creatures can sense vibrations on the ground to hunt their prey, so the townspeople must band together to come up with creative ways to get around and eventually outsmart the "graboids" before they all die.
Here's the trailer: