Let's Celebrate The 20th Birthday Of The 'Harry Potter' Series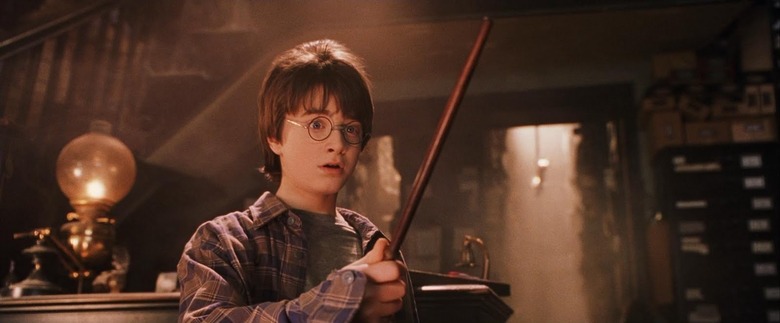 Harry Potter and the Philosopher's Stone was initially published in the U.K. on June 26, 1997. It migrated to the United States as Harry Potter and the Sorcerer's Stone a few months later. It was a literary phenomenon and the movie adaptations become a cinematic phenomenon and then Universal Studios' Wizarding World of Harry Potter theme park lands made it a family vacation phenomenon. Entire childhoods were shaped by J.K. Rowling's work...and plenty of adults fell in love, too.
So on today, the 20th birthday of one of the most beloved and influential pop culture icons of all time, the /Film crew has gathered to say a few words about a certain boy wizard and his books, movies, and world.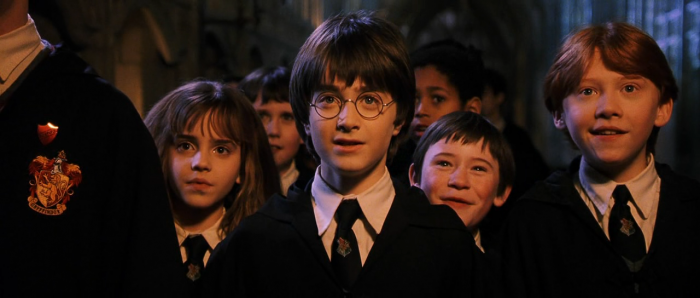 Hoai-Tran Bui Grew Up With Harry Potter
My copy of Harry Potter and the Sorcerer's Stone has stains from spilled chocolate milk on the pages, corners folded over too many times, and a spine that's so distorted you can barely read the title. The tattered paperback copy sounds like it has all the signs of a mistreated book, when in fact it was one of the most beloved items in 6-year-old me's possession. I brought it to recess, where I got yelled at for reading when I should've been playing, and it started my bad habit of trying to read under the dinner table. I'm pretty sure my poor eyesight can be blamed on Harry Potter — I would frequently read at night by a sputtering book light, stuffing a towel in the cracks of my door so my parents wouldn't see.
I remember when my mom first bought me Harry Potter and the Sorceror's Stone — I had recently graduated to chapter books and was very proud of the fact, but Harry Potter stumped me. The strange names (I smugly pronounced Hermione wrong for years until the movie came out a few years later), the plodding, mundane start to the book (which was a bold move on J.K. Rowling's part in a children's book), and the massive page count almost put me off — almost. I was enchanted from the get-go: an orphan boy, a magical school, a dangerous flying sports game, a villain connected to his tragic past — what's not to love?
Since then, Harry Potter has been a staple of my life. Through high school, where my friends and I would debate whether the movies were any good or not; to college, when I formed my first lasting friendships over Harry Potter and the satirical Internet parody A Very Potter Musical. I went to Universal's Wizarding World of Harry Potter with one of my oldest friends — our first vacation without our parents — and waited outside in the freezing late November temperatures to see Harry Potter and the Deathly Hallows Part I  at its midnight release. Last year, I got my first tattoo of the deathly hallows symbol alongside two of my cousins — we are all the same age and had grown up together calling ourselves the Ron, Harry, and Hermione of the family (you can guess which one I think I am).
Whenever I was going through a hard time, Harry was there, whether I was struggling with insecurity, depression, or loneliness — I knew Hogwarts and my tattered copy of Harry Potter and the Sorcerer's Stone would always be there to welcome me home.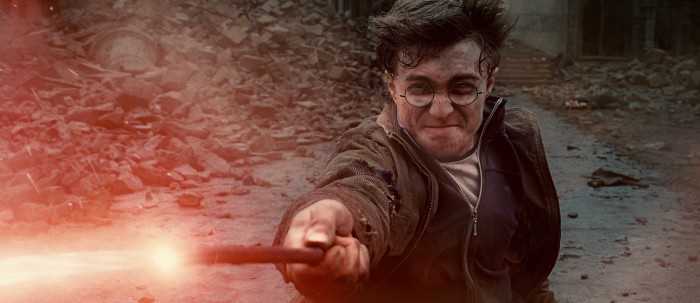 Jacob Hall is Obsessed With J.K. Rowling's World-Building
The most magical thing about J.K. Rowling's wizarding world is not the literal magic on display in the movies and books – it's how this world makes you actually want to live in it. Think about the other fictional universes you love. Middle-Earth? Everyone there is always dying. The Star Wars galaxy? Everyone there is always torn between two sides of a civil war. And let's not even get started on the post-apocalypses and dystopias of The Hunger Games, Blade Runner, and Mad Max. The simple truth is that most riveting fictional worlds are dangerous and hostile and wholly unwelcome. No one actually wants to live in Westeros.
But the wizarding world is different. It's welcoming. It's inviting. It's warm. It's even friendly. Even as the stories grow darker and the villains grow more powerful and our heroes are forced to go on the run so they can defeat pure evil, the world itself never loses its charm. In fact, the war with Voldemort and his minions is less about self-preservation and more about protecting a flawed but generally good place, a place where people are happy and where the reader/viewer feels as at home as the characters on the screen and page. J.R.R. Tolkien felt the need to scourge the Shire in the final chapters of The Return of the King – J.K. Rowling wrote an entire book series about keeping her version of Hobbiton from being corrupted beyond repair.
This is the key to the longevity of this world (franchise feels like such a dirty word to me in this case). People may love Harry and Hermione and Ron and Neville and Dumbledore and Snape and the rest of that enormous cast of characters, but it's the world that keeps them coming back. It's telling that Fantastic Beasts and Where to Find Them gets by with only a handful of direct references to noteworthy Harry Potter characters. The appeal of that movie is that we get to revisit a beloved universe and explore a previously unseen corner. Rowling's world-building, simultaneously dense and accessible, detailed and witty, outrageous while, somehow, making perfect sense, is the star of the show. Those beloved characters (Arthur Weasley is, for some reason, my favorite of the bunch) inhabit a world that is so real and so lived-in that it can't help but inform every aspect of them.
The wizarding world, both in print and on screen, makes me happy. To quote Liz Lemon, "I want to go to there." And that's why those Universal Studios theme park lands are such unprecedented successes.
Ethan Anderton Almost Didn't Give a Shit About Harry Potter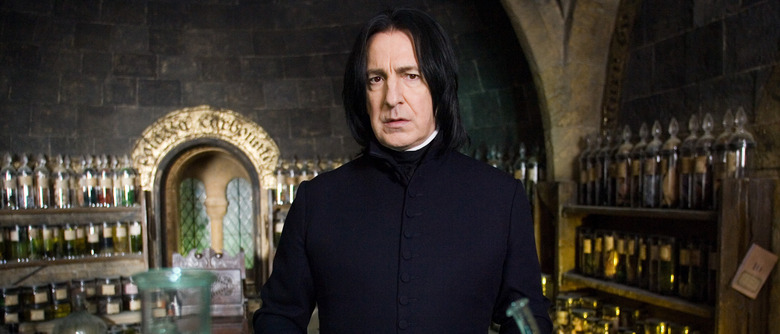 In the fall of 2000, I was a freshman in high school, and I could not have cared less about the excitement about the book that was Harry Potter and the Goblet of Fire, even though I heard about all the long lines and copies sold when it was released over the summer. A friend was re-reading the fourth book in the series, and I thought the illustrations looked childish and dumb, so I wasn't interested at all and even gave him grief for reading what looked like a silly book. This was during the time in my life when I was just starting to get into alternative rock, watching MTV and generally being sarcastic about everything, you know, like a stupid teenager. Then he told me to read the first book, and if I didn't like it, he would give me $20. To a kid without a job, $20 goes a long way, so I got to reading.
Goddamn it if I didn't read that book in about a day and a half and could not wait to get through Chamber of Secrets, Prisoner of Azkaban, and Goblet of Fire. That same friend got back at me for my original chastising by spoiling the fact that Voldemort returned at the end of the fourth book while I was in the middle of reading, but the book was so good that it didn't matter.
I attended a launch party for Order of the Phoenix and Half-Blood Prince, re-reading all the books each time in between and sorting through theories based on little details pointed out online. It also helped that I was (and still am) childhood friends with Emerson Spartz, the founder of Mugglenet, who grew up in my hometown and went to school with me before he was home-schooled. My friends and I had endless chats about the books, and sought out every last detail we could find leading up to the new book's release.
When the final book was on the verge of being released, I had set up an internship for part of the summer to work as a production assistant on a documentary that was shooting in some historic parts of Indiana where I went to school at Purdue University. There was no way I was going to have time to read the book while I was doing this internship, and so, I did something a little sneaky. I downloaded one of the ZIP files that started making the rounds that contained a scanned copy of the entirety of Harry Potter and the Deathly Hallows. I finished the book the night before it was set to be released, and was the only one on set who had read the book. It was maddening not to be able to talk to it yet, but I was so happy to have finished the book that I fell in love with on accident.
Obviously, I couldn't have been more excited about the movies, went to the opening night releases for each one, and now I have my own wand from Universal Studios, two collectible prints for the first and final film, and years of memories of obsessing about Harry Potter with friends.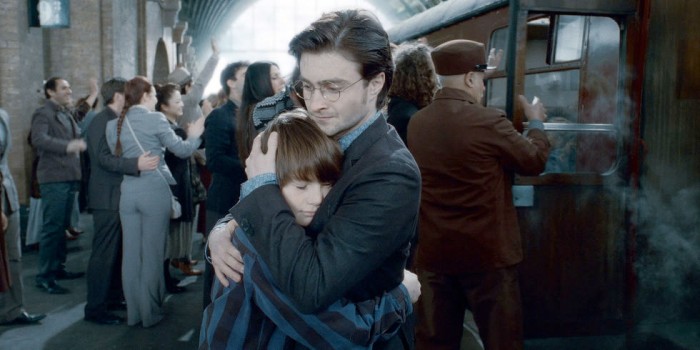 Jack Giroux Scheduled Vacations Around Harry Potter Release dates
Every Harry Potter movie was, for me and much of the world, an event. So much so that I'd sometimes plan vacations around the Harry Potter movie release dates so I could experience them with a few of my Potter obsessed family members. Months in advance, I'd be thinking about when and where I was going to see these movies and who I'd see them with. Each time a sequel came out, it felt special, not like just another trip to the theater. I know exactly where and when I saw all of the Harry Potter films and how I felt walking in and out of the theater.
I still think about going to see those films almost as much as the movies themselves. The crowds always made the experience better, too, which is rare. The audience excitement to be at the movies when a new Potter pic was out was always palpable and contagious. I always loved that. I was around the same age as the characters, as well, so each time felt like checking in on the students of Hogwarts. I was always excited to see how they've changed and evolved, in addition to what awesome new spells they've learned. The Harry Potter series, which I continue to revisit and marathon at least every year, gifted me with a lot of good memories that I'm thankful to have.
Peter Sciretta Loves Visiting the Wizarding World
I didn't catch Harry Potter fever early on. I think I was out of the proper age range when the books came out and the first couple movies were fine, but nothing special. I appreciated the John Williams score and the world-building, but the direction and visual effects seemed flat. It wasn't until I saw Alfonso Cuaron's Harry Potter and the Prisoner of Azkaban that I became a fan of the franchise. That's when I went back and read the books. And by "read," I mean "listened to the audio books" (which are some of the best audiobooks ever produced, by the way).
Still, my excitement for the franchise was more about the J.K. Rowling's wizarding world and not the characters or the epic story at the center of it all. During the filming of the last two movies, I was lucky enough to be invited to the set in London and explore the many stages containing the rooms of Hogwarts (the sets have now been turned into a museum that you can explore yourself). And while the experience was magical, the illusion ends where the set construction turns into wood framing and sandbags.
For me, my real love of Harry Potter comes from visiting the Universal Studios theme parks where the village of Hogsmeade and Diagon Alley have been faithfully recreated and expanded upon. The Wizarding Worlds of Harry Potter at Universal Studios Florida, Islands of Adventure, and Universal Studios Hollywood have allowed me to be immersed inside that world in a way that the books and even the movie sets never could. Visting Hogsmeade and drinking a frozen Butterbeer is a magical experience I wish everyone could try at least once. It's easy to see why these lands are now considered the new standard that all theme park additions are judged by. And maybe most important aspect of it all: my experiences inside this wizarding world changed my life in a way that I don't think even J.K. Rowling would have ever expected.
Ben Pearson Missed the Boat on This One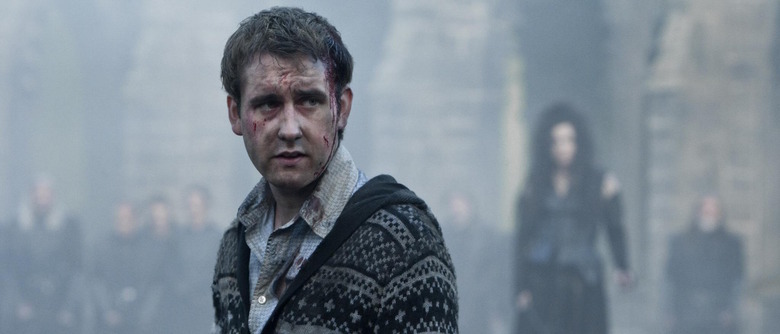 I almost missed out on the entire Harry Potter phenomenon. I've still never read any of the books, and I hadn't seen any of the movies until 2011, when I watched all of them in anticipation of Harry Potter and the Deathly Hallows – Part 2, which I saw in theaters with my younger sister, who'd been on board with the whole franchise since day one.
Can I tell you something? Lean in and let me whisper it...I don't think any of the Harry Potter movies are very good. But with that in mind, I owe it to myself to read Rowling's books and see if the story works better for me on the page than it did on the screen. I recognize the massive impact it had on a generation, and it'd be idiotic to dismiss the whole saga just because I didn't dig the movies. I can't imagine I'll start reading those books any time soon, but my wife's copies will always be sitting on our bookshelf, waiting for me to finally decide that the time is right to dive into the real version of the story.