'Han Solo' Updates: Bob Iger Won't Confirm Delay, Lawrence Kasdan Spotted Near Set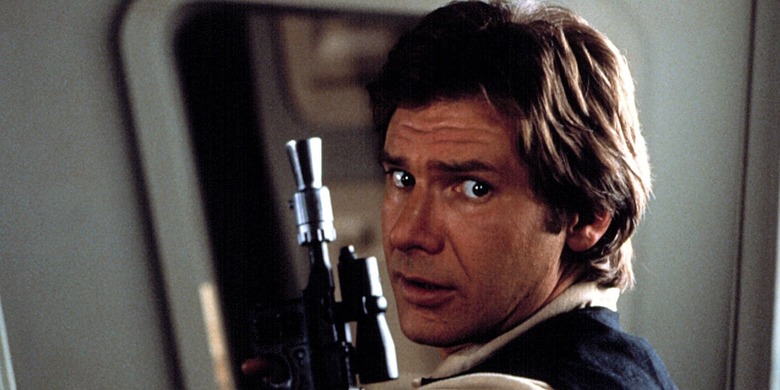 The untitled Han Solo movie went through massive upheaval last week, losing its two directors Phil Lord and Christopher Miller three weeks before the end of production and gaining a new director in Ron Howard a day later.
But despite fan apprehension surrounding this entire project, the people at Disney and Lucasfilm seem to be working around the clock to ensure that the film will be salvaged and assure fans that it will be a Star Wars movie worth seeing.
Disney CEO Bob Iger had only glowing praise for the newly added Han Solo director Ron Howard when a TMZ reporter spoke with him Saturday. While TMZ seemed to be somewhat skeptical that Howard was the man for the job, Iger countered, "Ron Howard's in charge. Can't get better than that."
Iger continued, in response to TMZ's grim view of Han Solo's embattled production:
"First of all we have a great cast, we have a great script, and we have a great director. It's gonna be fine."
Despite Iger's defense of Howard, the cast, and the script, which was written by Lawrence Kasdan and Jon Kasdan, he was coy in response to TMZ's question of whether the movie is "going to be delayed too much." "Not gonna say," Iger responded, tight-lipped.
It seems hands are on deck at the set of Han Solo, with Kasdan arriving at Heathrow Airport in London, according to MakingStarWars.net. Kasdan is presumably there to work on the Han Solo film. The veteran screenwriter was reportedly very unhappy with Lord and Miller's alterations to the script. The Hollywood Reporter's sources claimed:
"[T]he style and vision of Lord and Miller clashed with that of Lawrence Kasdan, the legendary screenwriter behind the classics Empire Strikes Back and Raiders of the Lost Ark, who also wrote, with his son Jon Kasdan, the script for the Han Solo stand-alone set (for now) to be released in 2018.
Lord and Miller (21 Jump Street, The Lego Movie) have a comedic sensibility and improvisational style while Kasdan favors a strict adherence to the written word."
Though Howard is less likely to flout the script in favor of his own vision with nearly two-thirds of the film already shot, Kasdan is likely making his way to set to assist with the transition as Howard steps into the director's chair.
So is all well on the set of Han Solo? Of course not. This situation is downright unprecedented. However, it looks like Disney and Lucasfilm are trying their best to bring the movie to theaters by May 25, 2018 as they planned.