'Pitch Perfect 3' Trailer: The Bellas Have Graduated College And Things Aren't Going So Well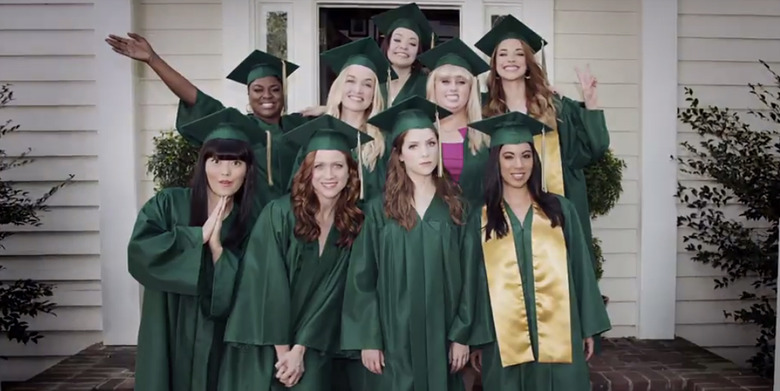 Are all you pitches ready for one last round with the Bellas?
The first Pitch Perfect 3 trailer arrived online this weekend, giving us a much better idea of what the a capella group  featuring Anna Kendrick, Rebel Wilson, Hailee Steinfeld, Brittany Snow, Anna Camp and more are up to for what appears to be their third and final outing together. All of the Bellas have graduated college now (well, almost all), and they're having some trouble getting jobs and staying motivated.
Desperate for some semblance of purpose, the Bellas decide to get together for an overseas USO tour that apparently also doubles as some kind of competition. But this is the first time the Bellas will be facing musical groups who don't just make music with their mouths. So how is that going to turn out? Watch the Pitch Perfect 3 trailer below to find out.
The trailer gives us our first look at Ruby Rose as part of a rival group on the USO tour, and her group gives the Bellas a hard time about singing other people's songs. Does that mean the Bellas will do another original song written by their youngest member, played by Hailee Steinfeld? We'll just have to wait and see.
Beyond those details, everything else is rather confusing. What are the Fat Amy (Rebel Wilson) and Beca (Anna Kendrick) doing jumping away from an exploding yacht? Why is Fat Amy wielding meat nunchuks like Michelangelo in Teenage Mutant Ninja Turtles II: Secret of the Ooze? There seems to be some level of danger an intrigue in this sequel, but we're not sure why.
Honestly, there are parts of this trailer that I really like, but there are other parts that feel like a bunch of stuff was thrown at a wall just to see what sticks. But maybe it will be better in the context of the movie when we find out more about exactly what's going on. Part of me wishes the whole movie was mocukumentary style as John Michael Higgins and Elizabeth Banks follow the Bellas around, but that presumably will just be the beginning of the movie so we can find out what all the Bellas are up to now.
Hana Mae Lee, Ester Dean, Alexis Knapp, Chrissie Fit, Kelley Jakle and Shelley Regner also are returning for Pitch Perfect 3, and they're joined by fresh new cast member John Lithgow, whose character is still very much unknown at this point. Trish Sie (Step Up All In) is directing, and while Kay Cannon was said to have written the script with Mike White doing a rewrite, there were no writer credits listed in the official press release, so maybe they're still figuring out how the writers will be credited for the sequel.
Now graduated from college and out in the real world where it takes more than a cappella to get by, the Bellas return in Pitch Perfect 3, the next chapter in the beloved series that has taken in more than $400 million at the global box office.
After the highs of winning the World Championships, the Bellas find themselves split apart and discovering there aren't job prospects for making music with your mouth.  But when they get the chance to reunite for an overseas USO tour, this group of awesome nerds will come together to make some music, and some questionable decisions, one last time.
Pitch Perfect 3 hits theaters on December 22.