'GLOW' Featurette: Watch The Netflix Series Stars Do Their Own Wrestling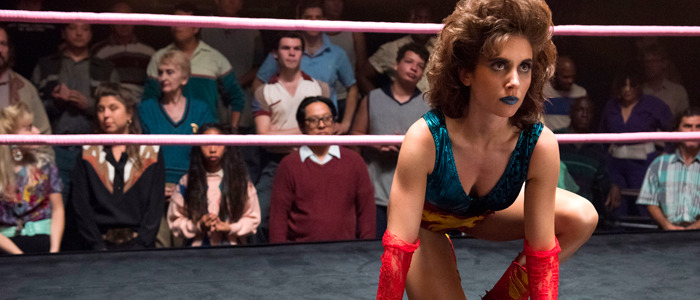 Netflix is bordering on belligerent with the amount of content the streaming service has been offering to its subscribers lately, and if you're looking to stay on top of it all, you should wipe your weekend plans because today marks the release of yet another full season of television. The 1980s-set series GLOW, which is loosely based on the real-life low-budget wrestling show "Gorgeous Ladies of Wrestling," hit the streaming service earlier today and has earned some great reviews thus far.
But before you binge the whole first season, take a look at a new GLOW featurette that showcases the stars doing their own stunts in the ring.
GLOW Featurette
Aside from the setting, this reminds me of Orange is the New Black: a diverse group of women at the end of their rope are joined together through unusual circumstances that result in deep friendships. And that parallel is clearly no accident, considering Orange is the New Black producers Jenji Kohan and Tara Herrmann are on board as executive producers.
I'm not into wrestling at all, but this definitely looks like a show I'd love. To me, the key to the whole thing looks to be finding the balance of having entertaining and outrageous characters who possess relatable motivations. Everything I've seen and heard about the show indicates that the creative team knocked that out of the park, and the near-universal acclaim seems to corroborate that theory.
GLOW is created by Liz Flahive (Homeland, Nurse Jackie) and Carly Mensch (Nurse Jackie, Weeds), and stars Alison Brie, Marc Maron, Betty Gilpin, Sydelle Noel, Britney Young, and Ellen Wong.
Inspired by the short-lived but beloved show from the 80s, GLOW tells the fictional story of Ruth Wilder (Alison Brie), an out-of-work, struggling actress in 1980s Los Angeles who finds one last chance for stardom when she's thrust into the glitter and spandex world of women's wrestling. In addition to working with 12 Hollywood misfits, Ruth also has to compete with Debbie Eagan (Betty Gilpin), a former soap actress who left the business to have a baby, only to be sucked back into work when her picture perfect life turns out not to be what it seems. At the wheel is Sam Sylvia (Marc Maron), a washed-up, B-movie director who now must lead this group of women on the journey to wrestling super stardom.
The ten-episode first season is available to stream right now.