'Star Trek: Discovery' Discards A Long-Standing 'Trek' Rule, Gets New Photo And Uniform Infographic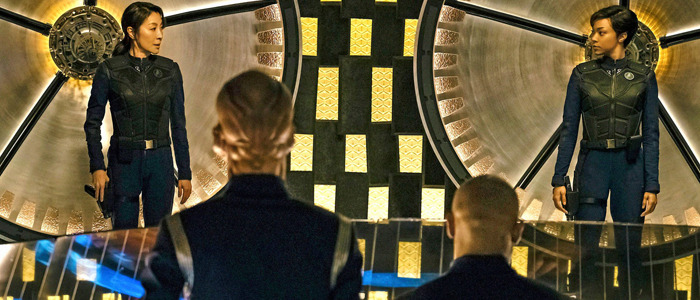 It was a rule that plagued writers of previous Star Trek TV shows: in order to better represent Trek creator Gene Roddenberry's idyllic vision of a utopian future, writers were strongly encouraged to avoid having Starfleet crew members in conflict with each other. But that won't be the case on Star Trek: Discovery, because showrunners Aaron Harberts and Gretchen J. Berg have lifted that restriction for their writing staff, which should lead to a very different Trek show than any we've seen before.
Below, read more about the discarding of the old rule, see a photo of a new Star Trek Discovery uniform (ooh, tactical armor!), and check out an infographic that breaks down the new styles of the uniforms in detail.
Entertainment Weekly brings word about the rule change, and has a few quotes from the new showrunners about why they're switching things up:
"We're trying to do stories that are complicated, with characters with strong points of view and strong passions," Harberts said. "People have to make mistakes — mistakes are still going to be made in the future. We're still going to argue in the future."
"The rules of Starfleet remain the same," Berg added. "But while we're human or alien in various ways, none of us are perfect."
The handling of these inner-Starfleet conflicts will still draw inspiration from Roddenberry's ideals, however. "The thing we're taking from Roddenberry is how we solve those conflicts," Harberts said. "So we do have our characters in conflict, we do have them struggling with each other, but it's about how they find a solution and work through their problems."
While this rule was previously abandoned for Star Trek: Deep Space Nine, this sounds like a good idea to me. Establishing anything that will set this show apart from the others in a storytelling capacity seems like a smart move right now, especially since some hardcore Trek fans aren't thrilled that the visuals of the new series are so clearly inspired by the Abrams movies.
Meanwhile, EW also has a new photo of the transporter room of the U.S.S. Shenzou: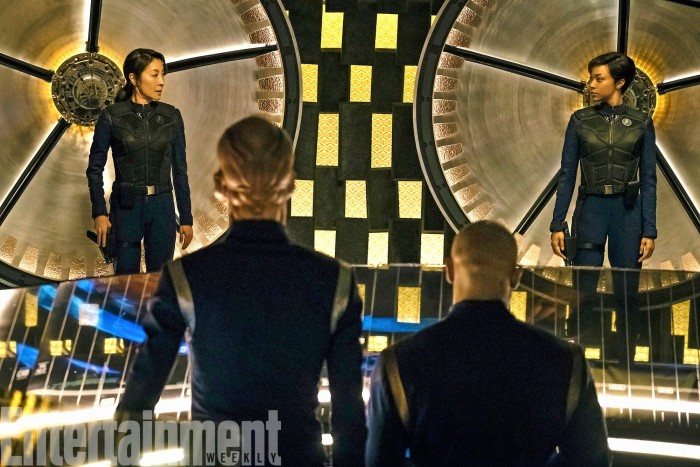 If you're a big Trek fan, you probably immediately noticed that not only are there two giant discs in the background that are unlike any we've seen in the Trek canon thus far, but Michelle Yeoh's Captain Philippa Georgiou and Sonequa Martin-Green's Michael Burnham are also decked out in tactical armor, another fascinating addition for the new series.
And speaking of uniforms, following the recent reveal of Jason Isaacs' Captain Lorca in costume, the team at TrekMovie have put together a detailed infographic dedicated to everything we know about Discovery's uniforms.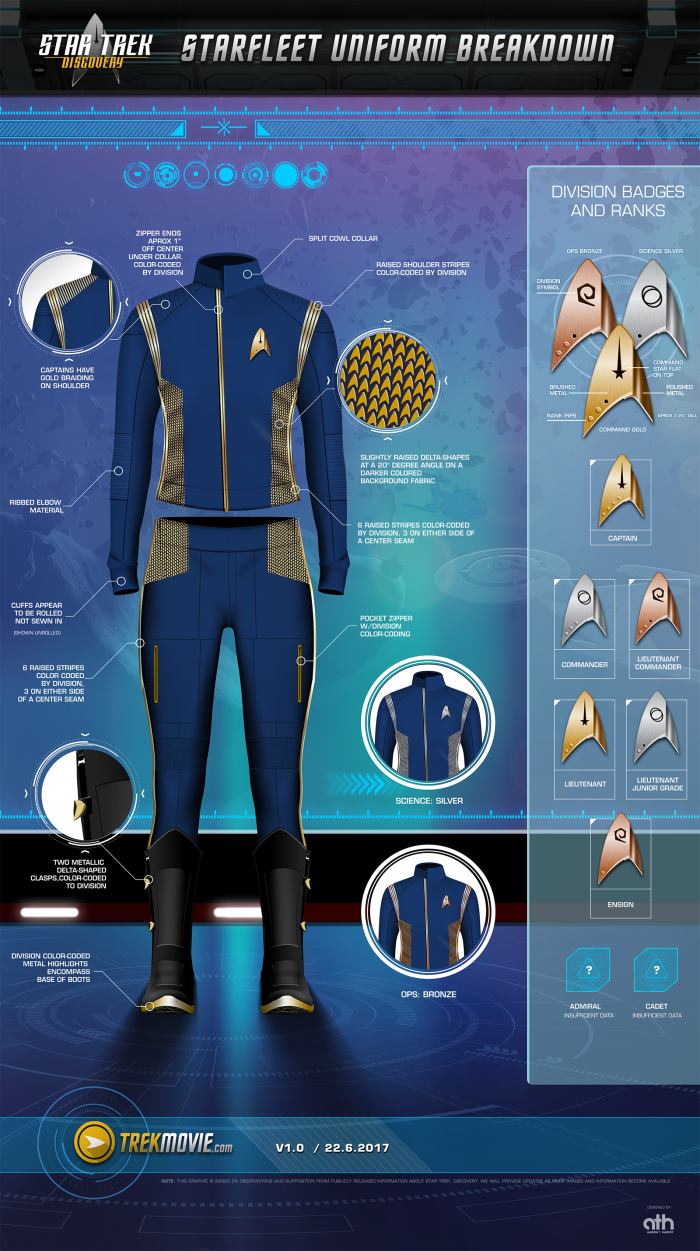 If that doesn't quench your thirst for the nitty gritty costume details you're looking for, they have an even more detailed analysis on their site. Star Trek: Discovery premieres on September 24, 2017.