Ron Howard Speaks Up On Directing 'Han Solo': I've Been A 'Fan Forever' Of 'Star Wars'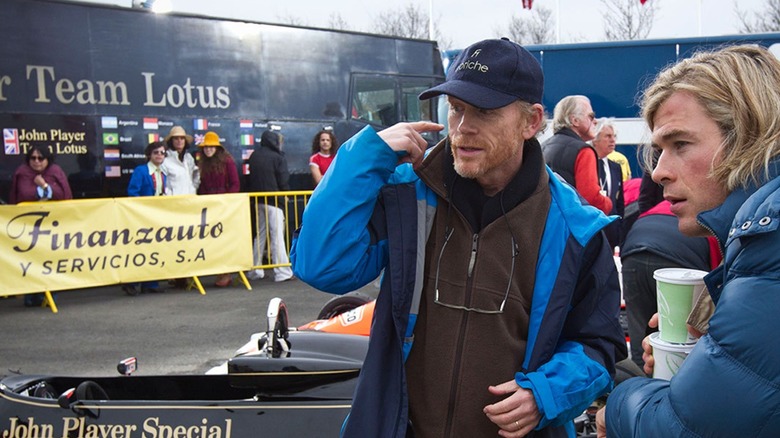 This week has been a whirlwind for Star Wars fans — the news that Phil Lord and Christopher Miller were fired two-thirds of the way through production of the untitled Han Solo spin-off movie hit the Internet on Tuesday. Just as quickly, it was announced that Ron Howard would step in to finish directing the film.
But the man at the center of it all has remained largely silent as the fans and hot takes swirled around him. Now, Howard has spoken up about taking over the Han Solo directing gig, offering a humble response to the burden that has been placed on him.
Howard spoke on a panel moderated by founder and CEO of WPP, Sir Martin Sorrell, at the Cannes Lions conference about stepping in to finish shooting Han Solo, which had three weeks of principal photography (and five weeks of reshoots) remaining before Lord and Miller suddenly left the project due to "creative differences" with Lucasfilm President Kathleen Kennedy.
"I've been a fan [of Star Wars] forever," Howard said, according to Variety. "It's gratifying to be asked to lend my voice to the [Star Wars] universe."
Howard has long-term ties with the people behind the Star Wars, acting in George Lucas' breakout film American Graffiti and directing Lucas' sci-fi pet project, Willow. Howard recalled to the panel how, in 1972, Lucas had told him abut his plans for a "fun" sci-fi film which would incorporate special effects like those used in Stanley Kubrick's 2001: A Space Odyssey.
When he went to see Star Wars on opening day with his wife, Cheryl, he said "was so moved by the movie. I was transported by the movie... We literally left almost speechless."
And what does he think about taking on the Han Solo movie, which has nearly been completed by two other directors? Howard was a little vague on how he would tackle finishing the production, but expressed respect for Lord and Miller's work, saying:
"So many people involved in the 'Star Wars' franchise are friends. It's already been in production, and there's a lot of really great work there."
Howard also tweeted Thursday his gratitude for being able to step in for the Han Solo movie, repeating much of what he said at the Cannes Lions conference.
I'm beyond grateful to add my voice to the Star Wars Universe after being a fan since 5/25/77.

— Ron Howard (@RealRonHoward) June 22, 2017
I hope to honor the great work already done & help deliver on the promise of a Han Solo film.

— Ron Howard (@RealRonHoward) June 22, 2017
Shooting is set to resume in July, Lucasfilm announced Thursday. Howard will reportedly be taking a look at the rough edit of the film and meeting with the actors to smooth over the transition.
Han Solo stars Alden Ehrenreich as the titular smuggler and Donald Glover as Lando Calrissian, as well as Woody Harrelson, Emilia Clarke, Phoebe Waller-Bridge, and Thandie Newton. For now, it is still scheduled to hit theaters on May 25, 2018.