'Person To Person' Trailer: Michael Cera And Abbie Jacobson Lead An Ensemble Drifting Through Life In New York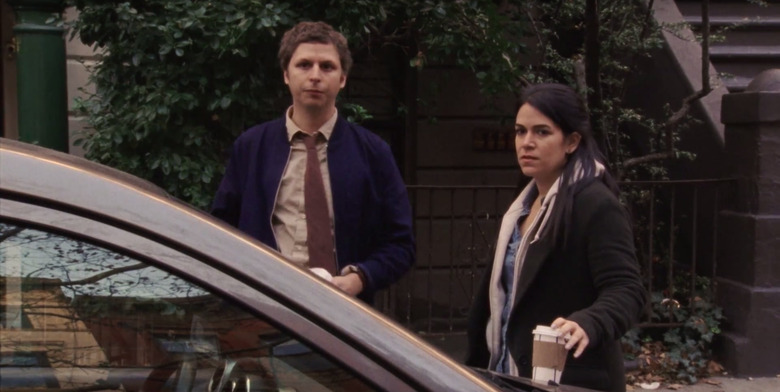 Countless films have tried to capture the aimless, buoyant spirit of New York City — and now we have another to add to the list.
Person to Person is an indie film from rising director Dustin Guy Defa that follows an ensemble cast — including the It Boy of indie dramedies, Michael Cera — of disparate characters as they grapple with various obstacles. And because this is an indie film, the film takes place over the course of one day.
Watch the trailer for Person to Person below.
Person to Person takes place during a single day in New York City and follows several different stories that range from the mundane — a music lover on the hunt for a rare vinyl — to the existential — a rebellious teen (Tavi Gevinson) trying to reconcile her feminist ideals with her desires. The biggest name stars, Cera and Broad City's Abbi Jacobson, share a story as an investigative reporter struggling through her first day on the job as her peculiar boss (Cera) accompanies her. Other stories include young man trying to reconnect with his ex-girlfriend and a Lower East Side clockmaker (Philip Baker Hall) who grumpily finds himself at the center of Jacobson's investigation.
While Cera is the biggest name, I'm most interested in Jacobson's leap from scrappy Comedy Central show to the big screen. Her character here is dramatically less outrageous than her role in Broad City, whose brand of cringe comedy her co-star Ilana Glazer seems to be bringing to her own silver screen jump in Rough Night. Jacobson seems to be going the opposite route, making the indie circuit instead of diving straight into slapstick comedy.
People to People got mostly positive reviews when it debuted at the Sundance Film Festival in January, getting immediately picked up by Magnolia Pictures for distribution. Critics praised it as an ode to New York, and a tapestry worthy of early Woody Allen. While some weren't quite that laudatory, they did have great things to say about the actors and their performances.People to People stars Michael Cera, Abbi Jacobson, Tavi Gevinson, Isiah Whitlock, Michaela Watkins, Olivia Lucciardi, Ben Rosenfield, Buddy Durress, Bene Coopersmith, George Sample III, and Philip Baker Hall.People to People will be released July 28 in select theaters and on iTunes, OnDemand, and Amazon Video.