'Batman And Harley Quinn' Animated Movie Coming To Theaters For One Night Only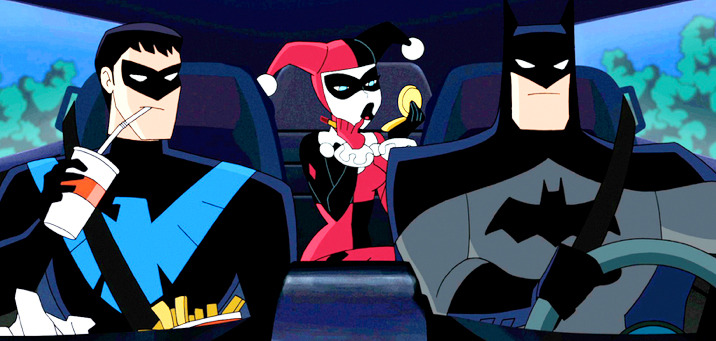 Continuing the tradition of Warner Bros. and DC Entertainment releasing their animated comic book movies in theaters for one night before they debut on home video, we have details on the theatrical release of Batman and Harley Quinn.
Batman and Harley Quinn is an animated feature in the style of Batman: The Animated Series which sees Batman and Nightwing forced to team up with their enemy, Harley Quinn, in an effort to stop Poison Ivy from executing a plan that will save the planet by eliminating mankind. The movie will be available to own in August, but before that, you'll be able to see it on the big screen.
Find out where and when you can see the Batman and Harley Quinn movie in theaters below.
First up, in case you missed it, here's the trailer for Batman and Harley Quinn:
The movie is directed by Sam Liu, who directed the animated adaptation of Batman: The Killing Joke, with a script inspired by an original story by Harley Quinn creator Bruce Timm and Paul Dini. Jim Krieg also helped with the story and served as executive producer with Sam Register, Benjamin Melniker and Michael Uslan with Alan Burnett co-producing.
The cast includes Kevin Conroy as Batman and Melissa Rauch as Harley Quinn with the rest of the voices portrayed by Loren Lester, Paget Brewster, John DiMaggio, Eric Bauza, Rob Paulsen, Robin Atkin Downes, Mindy Sterling and Trevor Devall.
"In Batman and Harley Quinn, Poison Ivy and Jason Woodrue (a.k.a. The Floronic Man) embark on an ecological quest to save the planet – and, unfortunately, eliminate most of humankind along the way. To save humanity, Batman and Nightwing are forced to enlist Harley Quinn to catch Poison Ivy, Harley's BFF and frequent partner-in-crime. But Batman's patience is put to the test by the unpredictable and untrustworthy Harley during the twists and turns the reluctant companions face during their bumpy road trip. The result is a thrill ride of action, adventure and comedy no Batman fan has seen before."
Batman and Harley Quinn will play in theaters for one night only on August 14 thanks to Fathom Events. A complete theater list isn't available yet, but it will be when tickets go on sale on June 30.