Neve Campbell Joins Dwayne Johnson's Action Thriller 'Skyscraper', Which Now Has A More Detailed Synopsis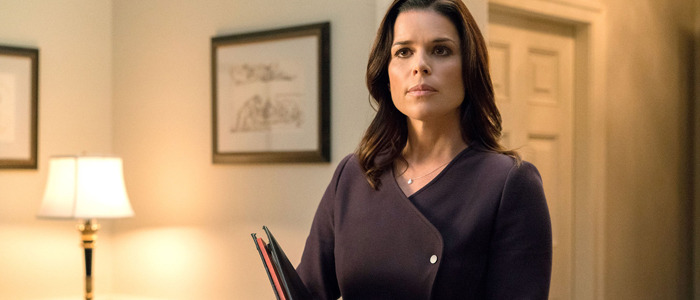 Here's something I didn't see coming: Scream star Neve Campbell has signed on to star in Skyscraper, the new Dwayne Johnson-led action film from Dodgeball and Central Intelligence director Rawson Marshall Thurber. Plus, there's a new synopsis that fills in a bit more of the movie's plot, which involves Johnson's character's quest to rescue his family from a burning building.
Campbell rose to prominence in the '90s with Party of Five, The Craft, and the Scream franchise, and has since become a series regular on Netflix's House of Cards. There's no word yet about who she'll play, but she sort of fits the "Carla Gugino in San Andreas" archetype, so I wouldn't be surprised if she were playing Johnson's wife here. (I can always hope she surprises everyone and plays a dastardly villain of some kind, but let's be real.) But hey, even if her character turns out to be little more than a cardboard cutout of a human, as sometimes happens in action films like these, at least the movie is casting a presumed love interest who's age appropriate for Johnson. (He's 45, she's 43.) The same thing can't be said for, say, the 54-year-old Tom Cruise, who recently appeared opposite the 32-year-old Annabelle Wallis in The Mummy.
In a transparent attempt to reach the maximum worldwide box office returns, the movie is set in China. If a Hollywood blockbuster movie is set in China or depicts the country in an overtly positive light, it's much more likely the pass their import restrictions. And as we've seen in recent years, a good reception in China can sometimes be the difference between a movie being an embarrassing bomb or a massive success.
Here's the new Skyscraper synopsis:
Global icon Dwayne Johnson leads the cast of Legendary's Skyscraper as former FBI Hostage Rescue Team leader and U.S. war veteran Will Ford, who now assesses security for skyscrapers. On assignment in China he finds the tallest, safest building in the world suddenly ablaze, and he's been framed for it. A wanted man on the run, Will must find those responsible, clear his name and somehow rescue his family who is trapped inside the building...above the fire line.
We previously knew Johnson was playing a disabled veteran, but his character name and the part about him being framed for the fire are new bits of information. The actor is currently filming Rampage alongside Moonlight star Naomi Harris, and will almost certainly jump right into making this movie next, since Skyscraper is scheduled to hit theaters in just over a year on July 13, 2018.