Kyle Chandler, Jason Clarke, And Corey Stoll Join Damien Chazelle's 'First Man'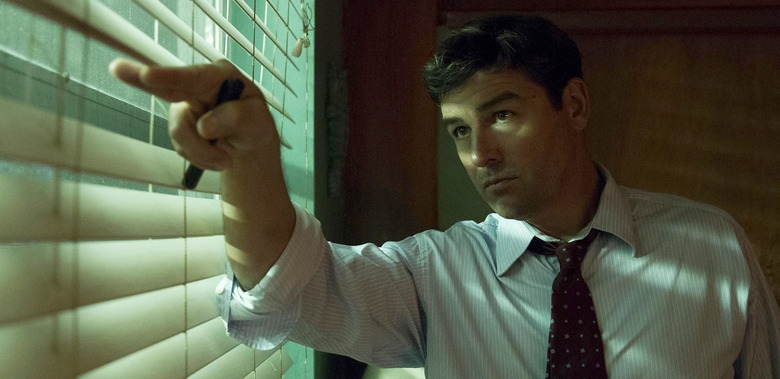 No surprise here: a trio of very talented actors want to work with Whiplash and La La Land director, Damien Chazelle. Kyle Chandler (Bloodline), Corey Stoll (Café Society), and Jason Clarke (Zero Dark Thirty) have signed up to star alongside Ryan Gosling in Chazelle's First Man, which is about NASA's attempt to put astronauts on the moon. They'll start shooting the Amblin Entertainment project in the Fall.
Below, learn more about the First Man cast.
Deadline has learned Chandler will portray Deke Slayton, one of the original Mercury Seven astronauts who flew in WWII and served as the first Chief of the Astronaut Office at NASA. He was grounded in '62 over his variable heart rate. Slayton was also the longest serving astronaut in history. Chandler, who's coming off a great performance in Bloodline, is about to close his deal.
Per The Hollywood Reporter, Clarke is in talks to play the first American to conduct a spacewalk, Edward Higgins White, who died in 1967 in an Apollo mission testing accident. As for Stoll, Variety writes he's playing Buzz Aldrin, who passed away in 2012. The Lunar Module Pilot on Apollo 11 was the second person to walk on the moon.
First Man spans from 1961 to 1969 and focuses primarily on Armstrong. Academy Award winner Josh Springer's (Spotlight) script is based on James R. Hansen's "First Man: A Life of Neil A. Armstrong." His book is "the only authorized glimpse into the life of America's most famous astronaut." Here's more info on the book, which was written after 50 hours of interviews with Armstrong:
In First Man, Hansen explores the life of Neil Armstrong. Based on over fifty hours of interviews with the intensely private Armstrong, who also gave Hansen exclusive access to private documents and family sources, this "magnificent panorama of the second half of the American twentieth century" (Publishers Weekly, starred review) is an unparalleled biography of an American icon.
Upon his return to earth, Armstrong was honored and celebrated for his monumental achievement. He was also—as James R. Hansen reveals in this fascinating and important biography—misunderstood. Armstrong's accomplishments as engineer, test pilot, and astronaut have long been a matter of record, but Hansen's unprecedented access to private documents and unpublished sources and his interviews with more than 125 subjects (including more than fifty hours with Armstrong himself) yield this first in-depth analysis of an elusive American celebrity still renowned the world over.
With this story, this cast, and this director, First Man continues to grow more promising, not that another collaboration between Gosling and Chazelle wasn't already promising enough – they made an exhilarating drama with La La Land. If someone could capture both the drama and wonder of this story, it's Chazelle. Space travel and Buzz Aldrin's story visualized by Chazelle sounds like a movie a lot of people – myself included – will want to see next year.
First Man opens in theaters October 12, 2018.