Mahershala Ali Joins The Voice Cast Of Lord And Miller's Animated 'Spider-Man' Movie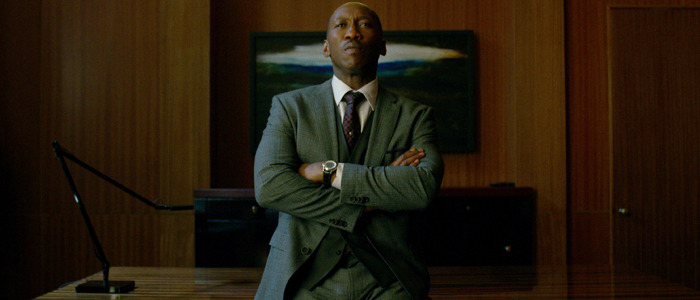 Amid all the hubbub about Phil Lord and Chris Miller leaving the Han Solo movie, I'd completely forgotten that they were involved with an animated Spider-Man film across town at Sony Pictures Animation. That project just scored a couple of solid additions to its voice cast, as Oscar winner Mahershala Ali (Moonlight) and actor Brian Tyree Henry (who plays rapper Paper Boi on Donald Glover's FX series Atlanta) have officially come on board. Read more about the animated Spider-Man cast below.
The new film features the fan-favorite character Miles Morales wearing the Spidey suit instead of Peter Parker, and Dope star Shameik Moore is voicing Morales. According to The Tracking Board, Henry will provide the voice of Miles' father, Jefferson Davis. In the comics, Jefferson was a former criminal who was forced to work undercover in the New York crime scene for Nick Fury's S.H.I.E.L.D., but since this is a Sony project and almost certainly won't take place in the Marvel Cinematic Universe, I doubt we'll hear Samuel L. Jackson's recognizable voice as Nick Fury at any point in this movie.
Meanwhile, Ali (who recently dabbled with the superhero genre in Luke Cage) will lend his voice to the character of Aaron Davis, Miles' uncle. While Miles' father reformed and gave up his life of crime, his uncle Aaron still operates on the wrong side of the law, much to the family's displeasure. In one strain of the comics, Aaron also takes on the mantle of The Prowler, but it's unclear if that'll happen in this film.
Barring any sort of secret plot twist, it doesn't sound like Ali's Aaron Davis will be a major villain in the movie, because Ray Donovan star Liev Schreiber has already signed on to play the villain. Sony is keeping the details under lock and key, so we aren't sure which character Schreiber is playing just yet.
Phil Lord wrote the still-untitled movie's screenplay by himself, and will produce alongside his creative partner Chris Miller, who has described this movie as something fans have never seen before and will be something that will "stand on its own as a unique filmgoing experience." Bob Persichetti (The Little Prince) and Peter Ramsey (Rise of the Guardians) are co-directing the film, which I'm very excited about; both of those guys have made movies that I consider to be underrated, and Ramsey especially has a great sense of where to put the (virtual) camera. It should be cool to see them tackle such a high-profile project.
Sony's animated Spider-Man movie swings into theaters on December 21, 2018.