'Avatar' Producer Reveals Official Start Date For Standalone Sequels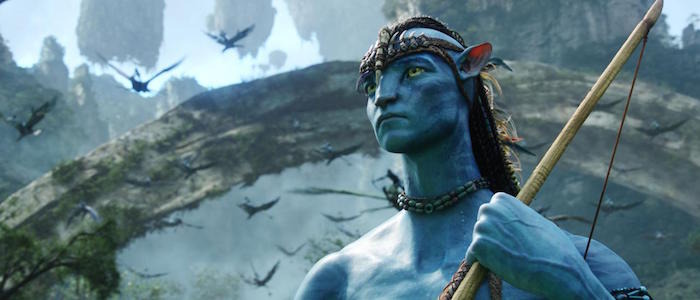 I learned a long time ago to think twice before doubting James Cameron. When everyone in Hollywood thought he was in the midst of an over-budgeted disaster, Cameron delivered what became the highest grossing movie of all time. The fact that the previous sentence could be referring to either Titanic or Avatar and be equally accurate is absolutely nuts, and while I've made my fair share of jokes about the upcoming Avatar sequels never getting off the ground, we now know exactly when Cameron will be diving back into the alien world of Pandora to begin filming.
Plus, each of the sequels are now being described as "stand-alone" stories that connect to form a larger saga. Find out the official Avatar 2 start date below.
Deadline reports that Avatar producer Jon Landau, who's at CineEurope in Barcelona, addressed the crowd there and revealed the official start date for the sequels – which are all set on Pandora – will be September 25, 2017.
"At the heart of any movie are the characters. One of the strengths of great scripts are always the universal and relatable themes... There's no more relatable theme than family. At the center of each of our four movies will be the Sully family. Each sequel will play as a stand-alone movie. Each movie's story will come to its own conclusion... However, when looked at as a whole, the journey across all four movies will create an even larger connected epic saga for audiences around the world."
I believe that part about each movie standing alone is new information, and if that indeed turns out to be the case, it could differentiate the Avatar movies from the rest of its cinematic universe contemporaries out there. It's rare for an audience to walk into a sequel without having seen the previous two or three movies and still be able to understand everything that's happening and why, so we'll see just how stand-alone these films end up being. To be fair, Landau could simply mean that the major storyline for each movie will be self-contained.
It's also worth noting that Game of Thrones actress Oona Chaplin joined the cast a couple of days ago and will be a key part of all of the sequels alongside returning stars Sam Worthington and Zoe Saldana.
Cameron and his team announced the start of pre-production back in April, along with an updated batch of release dates. Previously, the director compared the simultaneous production of all four sequels to "doing all three Godfather films at the same time."
It's not back-to-back. It's really all one big production. It's more the way you would shoot a miniseries. So we'll be shooting across all [Avatar scripts] simultaneously. So Monday I might be doing a scene from Movie Four, and Tuesday I'm doing a scene from Movie One. ... We're working across, essentially, eight hours of story. It's going to be a big challenge to keep it all fixed in our minds, exactly where we are, across that story arc at any given point. It's going to be probably the most challenging thing I've ever done. I'm sure the actors will be challenged by that as well. It's like, 'No, no, no, no, this person hasn't died yet, so you're still in this phase of your life.' It's a saga.
After all these years, it seems like Cameron is finally going to pull this off.
Avatar 2, 3, 4, and 5 are currently scheduled to arrive on December 18, 2020, December 17, 2021, December 20, 2024, and December 19, 2025, respectively.