'Star Trek: Discovery': First Look At Jason Isaacs' Captain Lorca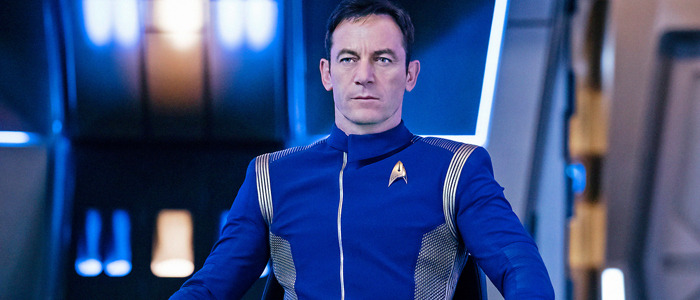 The captain is on deck. Actor Jason Isaacs (who played Lucius Malfoy in the Harry Potter films) was conspicuously absent from the first trailer of the new CBS All Access show Star Trek: Discovery that debuted last month (check out our detailed breakdown here), but now the first photo of his Discovery character, Captain Gabriel Lorca, has beamed its way online. Check it out in full below.
Here's the full photo from Entertainment Weekly: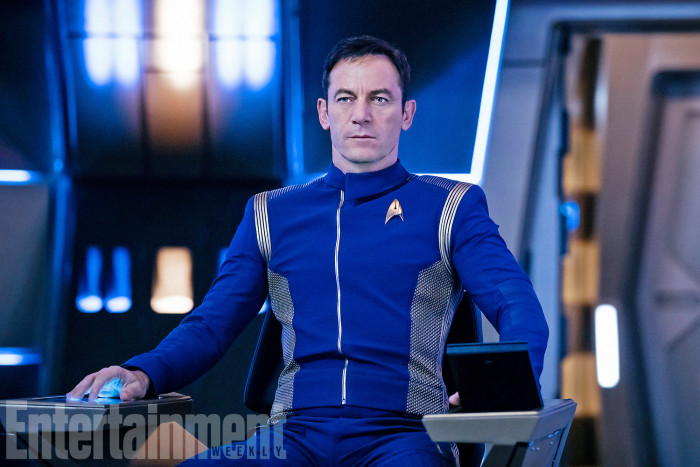 Is it just me, or is there something slightly off about his eyeline? No disrespect to Isaacs himself, but I feel like there's something almost subconsciously wrong with this image, as if whoever released this might have put it in Photoshop, reversed the actor's head on the horizontal axis, and then digitally stitched it back atop his shoulders.
It's a cool uniform, though. I'm digging that blue hue and the shoulder pads...it's a nice blending of modern sleekness with a classic throwback feel. And as EW notes, this is technically our first look at the bridge of the U.S.S. Discovery, because the bridge that appears in the trailer is of the U.S.S. Shenzhou, which is captained by Michelle Yeoh's Philippa Georgiou.
Isaacs' character is described as "a brilliant military tactician," but for the first time, a captain won't be front and center of a Star Trek TV show. Instead, the series revolves around Sonequa Martin-Green (The Walking Dead), who plays Starfleet First Officer Michael Burnham. She's joined by James Frain as Sarek (Spock's Vulcan father), Doug Jones' new alien character Lt. Saru, and a number of celebrity guest stars.
We found out earlier this week that the first season of Star Trek: Discovery will premiere on September 24, 2017 on CBS proper, and the first and second episodes will be available to stream on CBS' streaming subscription service All Access immediately after that airing. Then, each week will see the release of one new episode, exclusively through the All Access service. But the company has decided to split the 15-episode first season into two halves; the first eight will air between September 24 and November 5, and the remaining seven will hit the streaming service sometime in January of 2018. The reasoning behind this is so that the show's intense post-production requirements will have more time to be met, and the network would rather have fans wait a bit longer to see episodes they believe in rather than pushing something out to meet a pre-established release date. Here's hoping Discovery lives up to fans' expectations, because as the first Trek show in over a decade, there's a lot riding on this.