Westeros Comes To Washington: How A DC 'Game Of Thrones' Pop-Up Bar Came To Be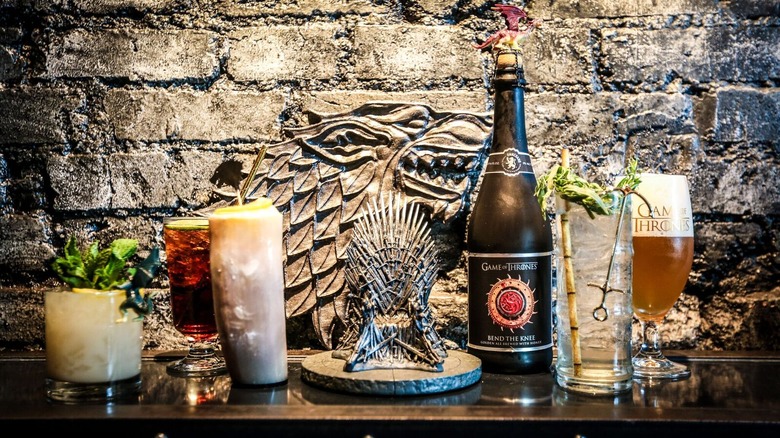 Bar-goers mill about a 3,000-square-foot sprawl of weirwood trees, Westerosi sigil banners, and a looming sculpture of a dragon's head. Some take pictures by the impressive replica Iron Throne while a few others excitedly point at a wall imitating the Hall of Faces, their own likeness used to create the eerie white plaster masks. Every few minutes, the bar is shocked out of its giddy reverie by the staff members — some clad in armor or Dothraki garb — ringing a bell and shouting "Shame!"
Westeros has come to Washington.
A Game of Thrones pop-up bar opened Wednesday in the Shaw neighborhood of Washington, D.C., taking over three interconnected bars — Mockingbird Hill, Southern Efficiency, and Eat the Rich — and turning them into five settings from the rich world of George R.R. Martin's A Song and Ice and Fire epic fantasy series.
A Bar Worthy of the Seven Kingdoms
Ever wanted to drink the oft-mentioned Milk of the Poppy? It tastes a lot like a Armagnac, dark rum, coconut, pineapple, lime, and clarified milk concoction. Want to pledge allegiance to the North? Well, you can get a strong scotch-and-sherry cocktail in an engraved horn tankard with a small sigil of the Starks cutely placed on top with a toothpick and a lemon.
The Game of Thrones pop-up, called simply The Game of Thrones Pub, offers not only an immersive set that replicates locations in Westeros and Essos, but special cocktails named after sayings or famous lines in the HBO series. While "The North Remembers" gets you that special horn tankard, and the "Dracarys" cocktail will set your tongue on fire with its 100-proof Two James Dr. Bird Jamaican Rum, most importantly, ordering "Shame" will get you that special "Shame" chant.
The bar decorations are simply awe-inspiring. The pop-up takes you through a Northern weirwood with its signature bleeding eyes; the House of Black and White's creepy Hall of Faces; a mural of dragons accompanied by a hand-crafted dragon head sculpture; and finally, the Red Keep, where the sigils of the houses of Westeros fly — including a blown up flayed man sigil of the Boltons — and a life-size of the Iron Throne sits for ambitious attendees to try to claim.
I was able to get a first look at it in a preview event for the Game of Thrones Pub — and the line was still out the door.
A Stranger Kind of Bar
The idea was conceived by Derek Brown and Angie Fetherston, who head the D.C.-based Drink Company, as a sort of informal follow-up to the huge success of their Stranger Things-themed pop-up in Christmas, which was set in the same location.
"One of the things I love about bars is it's not something you can go buy off a shelf," Brown told me in a phone interview with Fetherston before the bar's big opening on June 21. "You can't go to Amazon and order the Stranger Things pop-up kit or the Game of Thrones pop-up kit, it's something that's a labor of love."
The folks at Drink Company, a small company that aimed to create new spaces where people could enjoy a good cocktail, didn't expect to go the pop culture pop-up route. Brown and Fetherston had kind of accidentally stumbled into the idea of decorating one of their bars in the theme of Stranger Things, which in winter of 2016 was still one of Netflix's buzziest series.
In the Drink Company's second Christmas pop-up, called "Miracle on 7th Street" as a reference to New York's "Miracle on 9th Street" (whose creator Greg Boehm gave Fetherston the idea), Brown and Fetherston were struggling over how to decorate one of the bars that "has a lot of attitude." They turned to their current favorite show for inspiration, Stranger Things, and voila! The problem was solved.
"We didn't feel that traditional Christmas themes fit there, so Stranger Things felt right and felt natural," Fetherston said. Christmas isn't a huge part of the show, but Winona Ryder's character Joyce uses Christmas lights to communicate with her missing son, Will.
"For people to be able to walk in and feel a part of the something that they loved in that show was awesome to see," she continued. "For us too to present something that we also loved was particularly set in that show, it was really awesome."
The Stranger Things bar made waves and shocked attendees with an animatronic wall that imitated the Demagorgon reaching out, timed to an '80s soundtrack and the Christmas lights blinking to spell "Run." Eggo waffles decorating the walls and a shrine to Barb sealed the deal. A viral story was born, and Brown and Fetherston found themselves fielding requests for another pop culture pop-up.
That Stranger Things bar #miracleon7thstreet
A post shared by Hoai-Tran Bui (@htranbui) on Dec 16, 2016 at 7:33pm PST
A Drinking Game...of Thrones
After the success of pairing Stranger Things with the Christmas pop-up, Fetherston said they "realized the opportunity we had." The Drink Company created a special projects team to plan and execute the installations, which they planned to do once a season. In March they opened a joint Cherry Blossom Festival and Super Mario Bros. pop-up.
"It sounds very fancy, but it's still our friends who do it, and people who have been regulars at our bars for a long time," Fetherston said. "You know we're here at 2 in the morning painting the different pieces, but it becomes more of an undertaking because our imagination and our capacity for what we can do has broadened."
Drink Company's special projects director Matt Fox and manager Adriana Salame Aspiazu brought in local artists to design and build the setting — many of them friends or even regulars at the bar. The dragon murals were painted by a partner at the Drink Company, the banners were sewn by an acquaintance who works in theater. And the friends, employees and neighbors all volunteered to have their faces plastered for the Hall of Faces — which Aspiazu learned how to do through a YouTube tutorial.
"...[E]very little thing is created by somebody," Brown said. "I'm sure there are things we buy from somebody, but ultimately most of these things are hand-crafted. It's a one-of-a-kind bar, you can't really experience it anywhere else."
And what could be next? Brown and Fetherston threw around some ideas with me about a Harry Potter pop-up, or even a Star Wars theme, though they couldn't promise anything. Superheroes are the phenomenon of the moment, I suggested.
"Superheroes would be interesting, but the thing is the superhero are the draw, not the sets," Angie said.
"Wonder Woman's invisible jet would be easy to do," Greg interjects.
Angie groaned. "Oh my god, what a dad joke."
The Game of Thrones Pub is located at 1839-1843 Seventh St. NW, Washington, D.C., and runs from June 21 to August 27. Cocktails will cost between $13 and $15. Costumes are encouraged, but weapons are not allowed. It's open Monday to Saturday, but closes early at 7 p.m. Sundays — just in time for staff to watch Game of Thrones.