Now Stream This: Great Art, Amazing Trash, And Possibly The Best Movie Of 2017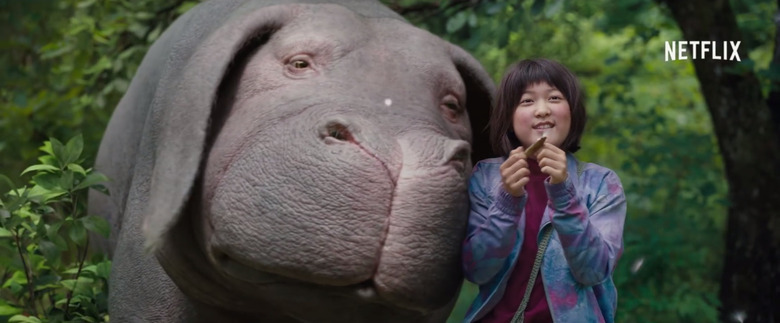 (Welcome to Now Stream This, a column dedicated to the best movies streaming on Netflix, Amazon, Hulu, and every other streaming service out there.)
Summer is here, which means it's time for summer movie season! Which also means that most of the movies hitting multiplexes will be terrible. Why not stay home and stream some good movies instead?
This latest edition of Now Stream This features what might be the best film of 2017, and surprise surprise, it's a film made for Netflix. The monocles of movie theater purists everywhere likely just shattered at that news, but this is the age we live in. Below you'll also find a French horror film, a Japanese New Wave classic, an animated cult classic, a masterpiece of trash cinema and much more. So crank up the AC, turn on the TV and avoid going outside and making human contact at all costs! Let's get streaming.
1. Okja
Streaming on Netflix June 28Audiences (and judges) at Cannes were slightly hostile over the concept of Netflix movies running in competition this year. And then they saw Okja. Like it or not, it's time to realize that Netflix is a major player in film distribution, and with Okja they might very well have delivered the best film of 2017. A funny, imaginative and often heartbreaking experience, this film from Bong Joon-ho will remind you that movies can sometimes be truly magical. Mija (Ahn Seo-hyun) is a young farm girl who has grown up in the mountains of South Korea raising Okja, a giant creature genetically engineered by the nefarious Mirando Corporation. When Mirando comes calling to haul Okja off to the slaughterhouse, Mija sets off on a globe-trotting adventure to rescue her. As an added bonus, Jake Gyllenhaal is in the film giving one of the strangest performances of his career. Okja may not be destined for the big screen, but that doesn't make it any less of a film. And what a magnificent film it is.For fans of: The Host, E.T., Monster Trucks, Tilda Swinton in various wigs.
2. The Iron Giant
Now Streaming on NetflixThis week, Michael Bay brings more Bayhem to the big screen with yet another incoherent Transformers sequel. However, If you'd like a little heart and soul to go with your clanking robot behemoths, you'd be wise to skip the theater and stream Brad Bird's earnest animated film The Iron Giant. A young boy befriends a giant alien robot (voiced by Vin Diesel), but the growing friendship is put in serious peril once the trigger-happy U.S. government learns of the giant's existence. Using an animation style that draws on the work of Norman Rockwell, The Iron Giant feels quaint and unique when compared to other animated films of the 1990s. The Iron Giant was virtually ignored in theaters due to poor marketing, but a much-earned cult status arose thanks to marathon showings on the Cartoon Network. There's more honest emotion in one minute of this film than there is in the approximately 400 hours of all the Transformers films combined.For fans of: Superman (1978), The Incredibles, Ratatouille, weeping during cartoons.
3. Dark City
Streaming on Hulu July 1Alex Proyas' eerie neo-noir Dark City was criminally underseen when it hit theaters in 1998, but now you can watch it from the comfort of your own living room. This is a spooky but gorgeous mind-trip about amnesiac John Murdoch (Rufus Sewell) who wakes up one night only to find almost the entire nameless, imposing city he dwells in asleep. Things only get weirder from there, as he's drawn into a conspiracy involving the very nature of time and existence itself. Pursued by chalk-faced men decked out in gothic frocks, and slowly realizing that the sun never seems to rise, Murdoch struggles to uncover his past while waiting to see if he even has a future. Loaded with trippy visuals and haunting concepts, think of this as the art-house cousin to The Matrix. It's also one of several films that features Jennifer Connelly standing at the end of a long dock, for whatever reason.For fans of: Blade Runner, The Matrix, Brazil, never-ending night.
4. Road House
Streaming on Hulu July 1Oh, hell yes. Now we're talking! Rowdy Herrington's Road House is the greatest American film ever made (maybe) – a glorious work of trash cinema loaded with brawls, brews and beauty. And also a monster truck. Patrick Swayze is Dalton, a world-renowned bouncer who also has a degree in philosophy, but what he really majored in was kicking ass. Dalton gets recruited to clean up the Double Deuce, a surly bar overrun with rowdy jerks. Everything changes when Dalton rolls into town, punching heads and changing hearts. This is bad news for Ben Gazzara, who plays the local crime kingpin who runs the town and also drives all over the highway while singing the 1954 doo-wop song "Sh-Boom." Just when you think this movie can't get any better, Sam Elliott shows up with long greasy hair and Dalton literally rips a man's throat open with his bare hands. Road House!For fans of: Point Break, Dirty Dancing, Tango and Cash, bar fights with a touch of romance.
5. 20th Century Women
Streaming on Amazon Prime Video June 28Mike Mills pays tribute to his childhood and the single mother who raised him in the sublime 20th Century Women. Annette Bening delivers one of the best performances of her already acclaimed career playing a single mom in the 1970s, struggling to understand her young son (Lucas Jade Zumann) while he in turn is trying to make sense of the world and people around him. Equally funny and poignant, 20th Century Women lingers with you long after you've watched it, like a wonderful memory that you know will never truly fade. As great as Bening is here, the film is almost stolen by Greta Gerwig, giving a sure-to-be-iconic performance with a dynamite haircut to match. If you're not shedding a tear or two during the last five minutes of this movie, you are a heartless ghoul of some kind, and back to the graveyard with you, I say!For fans of: Beginners, Mistress America, The Royal Tenenbaums, killer soundtracks.
6. Woman In the Dunes
Now Streaming on FilmStruckThis surreal, haunting 1964 film from Hiroshi Teshigahara follows a school teacher (Eiji Okada) on an expedition to locate insects that dwell in the sand near a small village in the middle of nowhere. After he misses the last bus home, villagers direct the teacher to stay at the home of a widow (Ky?ko Kishida), who inhabits a small hut at the bottom of a dune. Soon, the teacher finds himself trapped by the villagers who want him to marry the widow and help her dig the ever-shifting, always present sand that threatens to swallow them all up. Teshigahara and cinematographer Hiroshi Segawa create a gorgeous tapestry with this film, portraying billions and billions of flecks of sand in extreme close-up as the linger on the widow's exposed skin. With it all comes a quest for meaning in a seemingly meaningless universe and the sense that we are all doomed to repeat our daily rituals whether we like it or not. "Are you shoveling to survive," the teacher asks the widow, "or surviving to shovel?"For fans of: The Face of Another, When a Woman Ascends the Stairs, Pitfall, lots and lots of sand.
7. Among the Living
Streaming Now on ShudderJulien Maury and Alexandre Bustillo, the directors of the extremely disturbing French horror film Inside, made Among the Living in 2014, but like their second film Livid, it never saw the light of day in the U.S. Thankfully, Shudder has come along and dropped Among the Living onto their streaming service in all its nasty glory. The film sees Maury and Bustillo channelling Stephen King and Steven Spielberg and filtering those influences through the lens of New French Extremism. Three young friends skip detention on the last day of school and hike out to an abandoned movie studio on the outskirts of town. Unfortunately, a hulking serial killer and his doting father have taken up residence at the studio, and they aren't very happy to have company. The end result is like The Goonies meets The Texas Chainsaw Massacre.For fans of: Inside, Stranger Things, It, The Texas Chainsaw Massacre, squirming.
8. The Vengeance Trilogy
Now Streaming on FilmStruckHere's a bonus! Three movies in one entry! You're welcome. Park Chan-wook's brilliant, bloody Vengeance Trilogy is now residing on FilmStruck, just waiting for you to carve out about six-hours of movie watching time. There's Sympathy for Mr. Vengeance, in which a deaf man kidnaps a girl to ransom her in order to pay for his sister's surgery, only to have things go terribly wrong; Oldboy, following a man imprisoned by an unknown captor for fifteen years who then goes on a quest for revenge when he's inexplicably released, only to have things go terribly wrong; and Lady Vengeance, about a woman recently released from prison who plots revenge against the child killer who forced her to confess to his horrible crimes, only to have things go terribly wrong. It's a trilogy of astounding movie-making that will probably make you feel kind of terrible, but hey, it's worth it.For fans of: Stoker, The Handmaiden, Kill Bill, squid.
9. Magic
Now Streaming on Shudder"Magic is fun! We're dead!" So croaks Fats, the malevolent ventriloquist dummy who makes life hell for his handler, the milquetoast Corky Withers (Anthony Hopkins). Is Fats alive? Is Corky crazy? That's up to you to decide as you watch Richard Attenborough's 1978 thriller Magic. Penned by master screenwriter and novelist William Goldman, Magic is a probably best known for its eerie trailer, which featured Fats the dummy screaming a poem directly at the TV, horrifying children (and adults) who happened to catch it on the tube in between reruns of The Love Boat. Now you go beyond the trailer and experience the film in its entirety thanks to Shudder. Unless you're too afraid.For fans of: Dead Silence, Child's Play, Puppet Master, Anthony Hopkins arguing with a vulgar puppet.
10. 2 Days in the Valley
Now Streaming on Amazon Prime VideoAfter Pulp Fiction blew everyone away in 1994, Hollywood starting churning-out Tarantino knock-offs that struggled to recreate his style of ultra-cool criminals, intersecting narratives and sudden bursts of ultra-violence. One of the more interesting Pulp-clones is John Herzfeld's 1996 2 Days in the Valley. There's almost too much going on here, with stories involving hitmen, movie directors, art dealers and cops, but the film does manage to exude its own sense of style and warped charm. Look for Charlize Theron in an early, memorable performance and James Spader wearing some really cool glasses.For fans of: True Romance, Things To Do In Denver When You're Dead, Go, movies that feature characters with names like "Dosmo Pizzo" and "Teddy Peppers."