'Game Of Thrones' Actress Joins 'Avatar' Sequels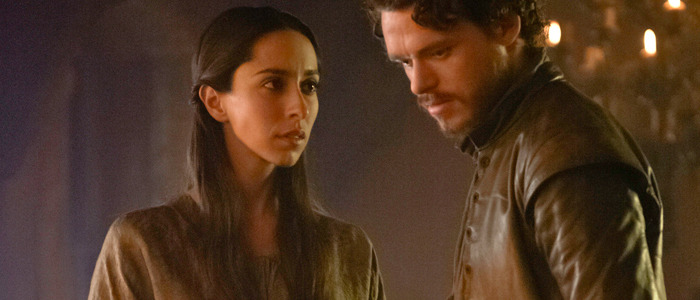 A former Game of Thrones actress has booked a ticket from Westeros to Pandora. Oona Chaplin, who played Robb Stark's wife Talisa on the HBO fantasy series, will join Sam Worthington (remember him?), Zoe Saldana, Sigourney Weaver, Joel David Moore, and Cliff Curtis in James Cameron's upcoming Avatar sequels. Either that, or this is just the latest development in Cameron's ongoing, elaborate prank to convince the world that these sequels are really happening, and we're all being Punk'd like crazy. Those are clearly the only two options here.
Who Will She Play?
Deadline, who doesn't seem to subscribe to the whole "Punk'd" theory, says Chaplin will be playing a character named Varang, who's described as "a strong and vibrant central character who spans the entire saga of the sequels." Varang doesn't sound like a human name to me, so the safe money is on Chaplin playing a member of the Na'vi race; although these films do take place in the far future, so who knows – maybe human names like "Varang" are just as likely to be used as ones like "Jake Sully" at that time.
There's another option: Varang could be a member of a reef clan called the Metkayina, which will be led by Cliff Curtis's character, Tonowari. The Metkayina will presumably be at the forefront of the movie's underwater plot, and Cameron has been teasing his use of underwater performance capture technology for years already; one assumes that after such a long delay, he and his team have finally been able to crack that tech to a point of satisfaction.
Chaplin has appeared in a handful of films over the past decade, but she's much better known for her TV work. In addition to playing Talisa on Game of Thrones with a level of ambiguity I could never quite get a read on – that's a compliment, by the way – she's also popped up on British shows like Spooks (aka MI-6), Sherlock, and the anthology series Black Mirror, and then on Tom Hardy's FX series Taboo. And here's a fun fact about the Spanish-born actress: she's the granddaughter of actor Charlie Chaplin and the great-granddaughter of playwright Eugene O'Neil.
As for James Cameron, he's well aware of the long gap between the first Avatar and the first in a planned batch of sequels. But he's not worried about it:
"Avatar 2 you are going to with not the promise, but the certainty of three more films beyond that, and that's a very different concept with the audience. And a lot of the delay has been around creating that overall vision."
Here's hoping that vision is worth the wait. Avatar 2 is currently slated to hit theaters on December 18, 2020.