He's Back! 'John Wick' Comic Book Will Explore The Character's Origin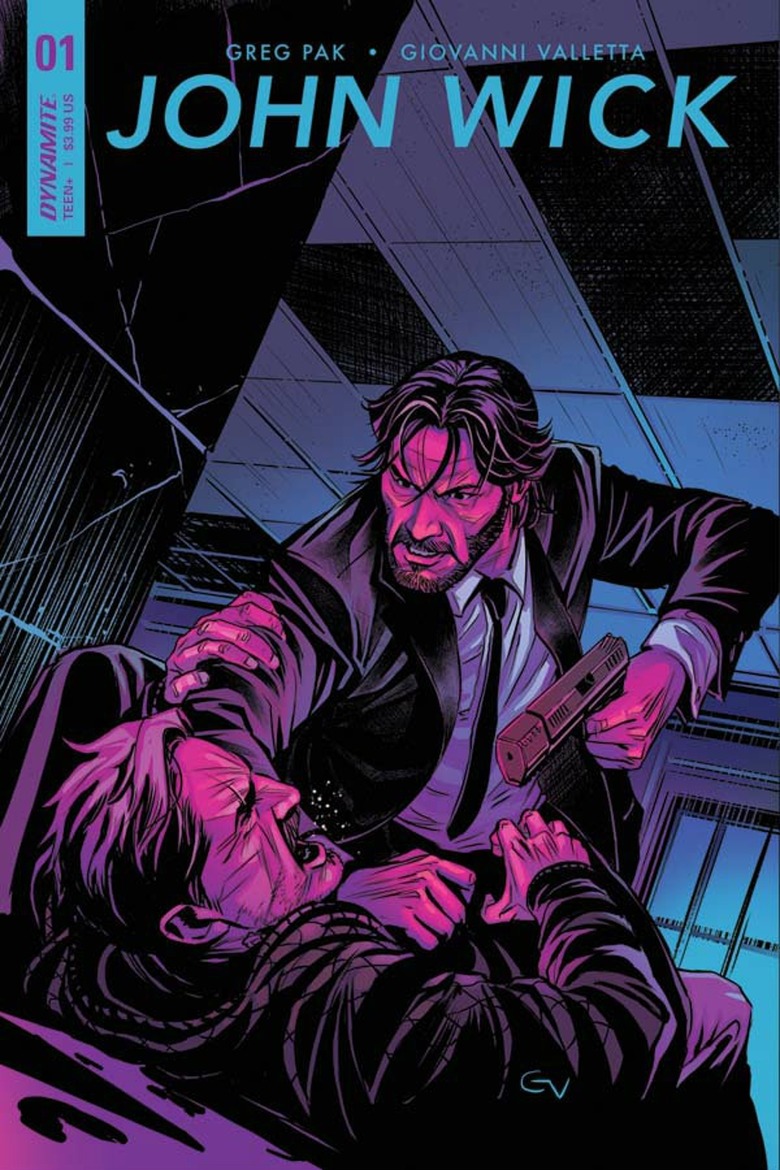 John Wick is rapidly expanding from the cult action movie that first splashed onto the scene in 2014. First John Wick: Chapter 2 introduced a sprawling international network of assassins whose world is infinitely more complex than we could have dreamed.
Then a TV show was announced which is set to explore that world, with star Keanu Reeves set to make a cameo. Now, a comic book series will be released in September exploring the origins of the great, mythic John Wick himself, written by acclaimed Planet Hulk writer Greg Pak and drawn with stylish gusto by Giovanni Valletta.
Find out more about the much-anticipated John Wick comic book after the jump.
Greg Pak (Marvel's The Totally Awesome Hulk, DC's Action Comics) will write John Wick, the comic book series by Dynamite Entertainment that flashes all the way back to the start of Wick's career, according to The Hollywood Reporter. And yes, before you ask, it's canon in the movie universe.
The art by Giovanni Valletta seems to echo the neon-drenched purple and black shades of the two films, true to the neo-noir style of John Wick. To the left is the cover for the first issue by Valletta, to the right is the variant cover for that issue by Denys Cowan and Bill Sienkiewicz.
In a statement from Dynamite Entertainment, Pak expressed his excitement for writing John Wick and said that the book pays its dues to the "kinetic action" of the films.
"I was on board pretty much as soon as I got the call and heard 'John Wick,' I'm a huge Keanu Reeves fan and loved the John Wick movies, which had the kind of kinetic action and intriguing mythology that seemed like a perfect fit for comics. I'm also always happy to work with my friends at Dynamite, who are always a pleasure to make comics with. And the art I saw from Giovanni Valletta blew my mind — he's totally nailing Keanu Reeves' likeness while creating emotional, dynamic, exciting action. This book is going be beautiful. But what really sealed the deal was when Dynamite Editor Anthony Marques said we had the greenlight to tell a John Wick origin story. That was astounding to me — we're not just telling another fun adventure with the character; we're actually going to be able to add to this character's and world's tremendous mythology by telling an origin story! What could be cooler than that?"
Dynamite editor Anthony Marques said the comic book series "received the blessings from all of the creators involved with the films," including writer/creator Derek Kolstad and even Reeves himself.
The John Wick series will launch digitally and in comic book stores this September.