'Bumblebee' Spin-Off Will Be Like 'The Iron Giant,' Claims Producer Lorenzo Di Bonaventura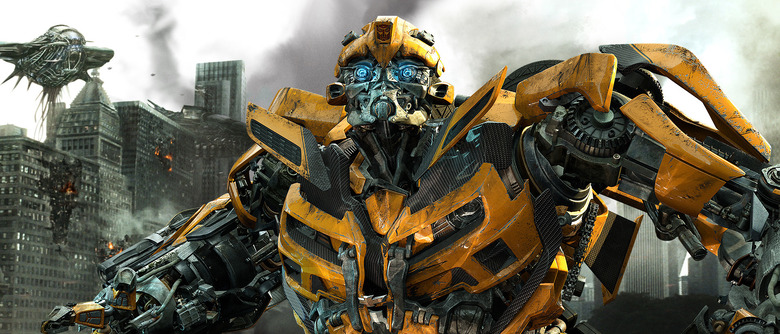 Transformers: The Last Knight will be the last outing for director Michael Bay, but it's only the beginning for the Transformers franchise. The first of 14 (!) more Transformers movies in development will be Bumblebee, the '80s-set prequel for the lovable yellow Autobot.
And while the Bumblebee movie is assembling all sorts of talent behind and in front of the camera — Kubo and the Two Strings director Travis Knight is set to helm the spin-off while Oscar nominee Hailee Steinfeld is circling the lead role — but we all know a good movie is more than just the good talent working on it. Worry not, says Lorenzo di Bonaventura, as the Transformers franchise producer assures us that the story holds up and even draws comparisons to another beloved and critically acclaimed robot movie: The Iron Giant.
In an interview with Collider, Bonaventura, who has produced all the Transformers films and is overseeing its many spin-offs, dished out details on the Bumblebee movie. Bonaventura compared the film's 1980s setting to the '90s setting of The Iron Giant, saying that it's a simple story with very few extraneous Transformers that draws on its innocent nostalgic setting.
"There are dramatically less Transformers. We hired purposefully Travis Knight, who is a very distinct filmmaker. You can't compete with Michael, you're gonna lose. And also I think the audience wants something different all the time, let's keep them interested. They're gonna get a very emotionally complex story, a very tight story in terms of its location and in terms of its storytelling. In fact it reminds me a little bit of 'Iron Giant' years ago when I did that movie at Warner Bros. It just reminds me a little bit of that where it was very contained and yet it didn't feel small."
The Iron Giant is a 1999 animated classic with a tear-jerking finale that has traumatized many young children and embedded the film in the hearts of many who have seen and loved the film. To make a comparison to that movie is a lofty promise, especially with a Transformers film, which aren't generally known for being the height of prestige blockbuster filmmaking. But even that vague connection drawn by a Tranformers producer gives hope that the Bumblebee movie will have more emotional heft than the other Transformers films and be worth a talented actress like Steinfeld's time.
Bonaventura also confirmed that the Transformers Bumblebee spin-off will have a female lead, which will lend to a different, less hyper-masculine tone than Bay's Transformers movies.
"So it has a very distinct idea in it, and then whatever is gonna happen with the chemistry is what's gonna happen, but it really is a young female lead opposite Bumblebee, and I think Optimus is gonna be jealous that Bumblebee has his own movie."
Production for the Bumblebee spin-off is slated to begin next month and set for release on June 8, 2018.