'Never Here' Review: An Art Project Turns Violent In This Psychological Drama [LAFF]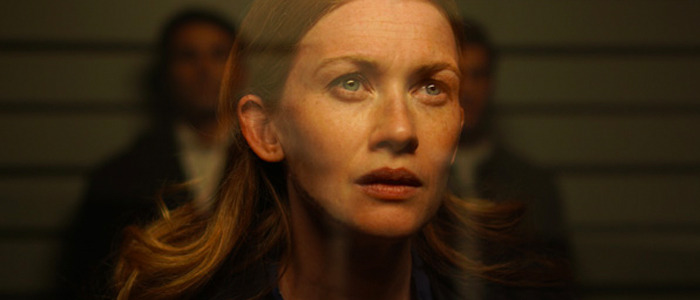 Miranda (Mireille Enos) is an installation artist interested in exploring the concept of identity. One of her exhibits is based on the time she found a man's phone, went through it to learn the places he normally visited, and then trekked to those places to surreptitiously take photos of him, which she put on display in a gallery. But when she poses as the key witness in a police investigation of a random assault that occurred just outside her apartment window, Miranda is struck with inspiration for her latest idea, a twisted, voyeuristic documentation of the man she believes committed the crime.
It's fitting that Miranda's last name is "Fall," since the character slowly descends into her own delusional interpretation of the world over the course of Camille Thoman's unsettling directorial debut, Never Here.
While the film's themes – voyeurism, deception, identity, chance – are lifted straight from Alfred Hitchcock's greatest hits, Thoman, who also wrote the movie's script, seems to have also been influenced by the films of David Lynch. Through her camerawork and editing choices, she's able to build a palpable sense of unease and an outlook on the world that feels dangerously skewed. Thoman knows audiences have been conditioned to be comfortable with traditional filmic language, so she prods and pokes at that comfort with her filmmaking style, holding certain shots a little too long or keeping things ever so slightly out of focus so in the deep recesses of our minds, we begin hoping that things return to normal. And those are just the filmmaking tricks she uses to subconsciously enhance the story – when Miranda's normally happy-go-lucky dog starts acting strangely and hiding under the dinner table, you definitely know something's up.
Enos (The Killing) gives a haunted performance in the lead role, allowing obsession to swallow her whole and affect her entire worldview. Sam Shepard, Goran Visnjic, Vincent Piazza, and Nina Arianda co-star, but this is Enos's film through and through. She excels at depicting curiosity, and she's equally game when the story demands that she deliver during some key emotional moments and turning points.
As Miranda's desires and delusions collide to form an uncertain reality, Never Here becomes increasingly unhinged. I won't pretend that I fully "got" everything this movie was trying to say, but if you're in the market for a low-key, atmospheric thriller that explores identity with occasionally nail-biting tension, you could do worse.
/Film Rating: 6 out of 10