'War For The Planet Of The Apes' Celebrates Father's Day With A Brief New Trailer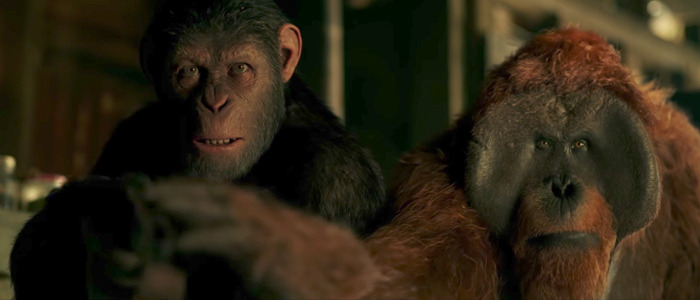 What better way to celebrate Father's Day than with a new trailer for one of the year's most anticipated blockbusters? (There are plenty of ways, but just go with me on this.) Yesterday, 20th Century Fox unveiled a new Father's Day-themed War For the Planet of the Apes trailer that focuses on the ape leader Caesar's (Andy Serkis) legacy, and how his constant battle with humanity is eating away at him.
That's not exactly a cheery Father's Day message, but it's fitting for a movie that's already earned terrific early buzz for its bleak depiction of violence. Check out the War For the Planet of the Apes Fathers Day trailer below.
War For the Planet of the Apes Fathers Day Trailer
The Father's Day angle was a smart one to take, because not only does Caesar have his own son to worry about, but it appears he also becomes a surrogate father for Nova (Amiah Miller), the young girl who grows up to be the mute woman Charlton Heston befriends in the original Planet of the Apes and its sequel. Themes of fatherhood are all over this movie.
Every single piece of marketing has left me slack-jawed at how gorgeous the film looks, and this one's no different. Director Matt Reeves has always been great at capturing distinct, iconic visuals even going back to his debut feature, Cloverfield, but this looks like next-level blockbuster filmmaking on his part. It's the culmination of Caesar's story that began in the surprisingly great Rise of the Planet of the Apes, continued in Reeves' excellent Dawn of the Planet of the Apes, and meets its definitive end here.
But just because this will be the last entry in Caesar's trilogy doesn't mean the franchise itself is wrapping up quite yet. Producer Peter Chernin previously said the filmmakers have "a world of stories left to tell in this universe" should War perform well at the box office. We have less than a month to go before we find out how well it opens because War For the Planet of the Apes hits theaters on July 14, 2017.
In War for the Planet of the Apes, the third chapter of the critically acclaimed blockbuster franchise, Caesar and his apes are forced into a deadly conflict with an army of humans led by a ruthless Colonel. After the apes suffer unimaginable losses, Caesar wrestles with his darker instincts and begins his own mythic quest to avenge his kind. As the journey finally brings them face to face, Caesar and the Colonel are pitted against each other in an epic battle that will determine the fate of both their species and the future of the planet.