Ian Malcolm's Return In 'Jurassic World 2' Will Please Fans Of The Original Novel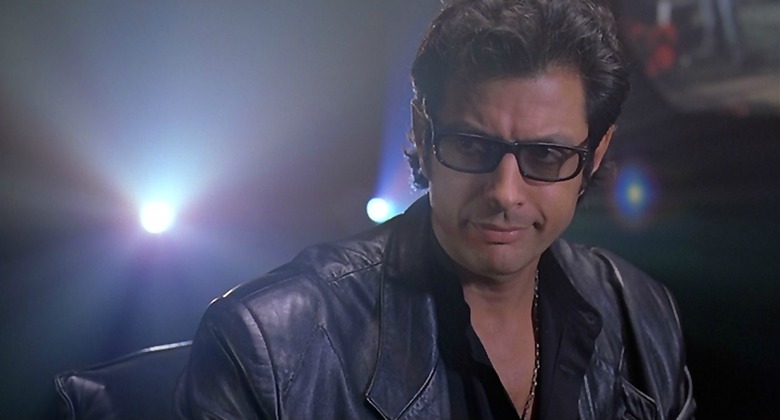 This weekend has not been kind to Colin Trevorrow, whose passion project The Book of Henry was lambasted by critics and put the goodwill surrounding him as the choice to direct Star Wars: Episode 9 at risk.
But people still kinda liked Jurassic World, so the sequel that he co-wrote and produced will be anticipated nonetheless. A major part of that anticipation can be credited to the return of Jeff Goldblum as chaos theory mathematician Dr. Ian Malcolm, and Trevorrow recently discussed what fans can expect in that department.
Find out more about Jeff Goldblum in Jurassic World 2 below.
Trevorrow appeared on MTV's Happy Sad Confused podcast to dish on what to expect for Jurassic World 2, the 2018 sequel to the 2015 monster hit Jurassic World, which Trevorrow directed. While Trevorrow is not back in the director's chair for the sequel — now preoccupied by that other huge nostalgic franchise, Star Wars — he worked on the script alongside his Jurassic World and Safety Not Guaranteed scribe Derek Connolly.
Trevorrow revealed that while the first Jurassic World was a throwback to the original Jurassic Park film, Jurassic World 2 will have callbacks to the Michael Crichton books upon which the series is based. And you can thank Jeff Goldblum for that. Trevorrow explained:
"You know, I did rely on [Michael] Crichton for a lot. I used a lot of Crichton dialogue. Maybe one of my highlights of this whole process is Goldblum. Jeff Goldblum called me – and I'm not going to do an impression – but he was like, 'Look, I've added a couple of things, and I thought I'd perform it for you.' [Laughs] Oh, great, okay. So, we sat on the phone for an hour as he ran these lines, and I talked about it. And, I mean, that's – it was almost better than being there on set. It was great."
So in addition to some classic dialogue reminiscent of Crichton's 1990 Jurassic Park sci-fi novel, we can expect Goldblum Goldbluming all throughout Jurassic World 2 — which sounds positively delightful. But don't expect it to be all fun and "uhh," "ohs," and "life finds a ways," Trevorrow has said time and again that Jurassic World 2 will be the darkest of the series.
Trevorrow expanded on that, saying:
"It's just deeper, more character-based, and it definitely leans into suspense, especially in the second half... It does have the big action in the middle. There's a sequence in the middle that I've been watching – I mean, I watch dailies every day – but I've started to see stuff come together, and it's just insane."
Sounds like we'll have a lot to look forward to from director J.A. Bayona.
In addition to Jeff Goldblum returning as Dr. Ian Malcolm from Jurassic Park and The Lost World: Jurassic Park, Chris Pratt and Bryce Dallas Howard will return for Jurassic World 2 alongside franchise newcomers Toby Jones, Daniella Pineda, Justice Smith, Rafe Spall, Ted Levine, James Cromwell, Geraldine Chaplin. The sequel hits theaters June 22, 2018.