'Star Wars: The Last Jedi': Mark Hamill Clarifies Disagreeing With Rian Johnson's Plan For Luke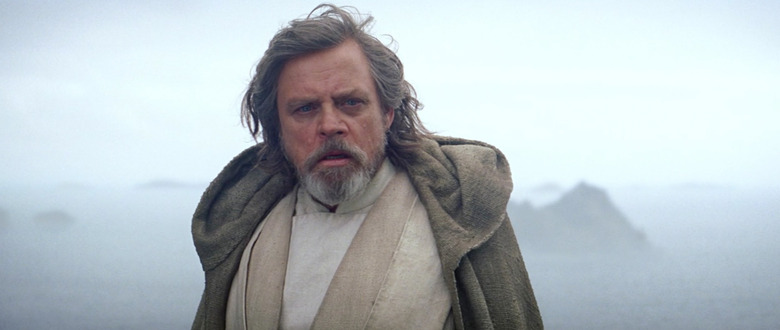 Towards the end of last month, a slew of Star Wars: The Last Jedi details came from Vanity Fair's big cover story, but there was one new piece of information that caught fans off guard.
During an interview, Mark Hamill brought up a conversation he had with director Rian Johnson:
"I at one point had to say to Rian, 'I pretty much fundamentally disagree with every choice you've made for this character. Now, having said that, I have gotten it off my chest, and my job now is to take what you've created and do my best to realize your vision.'"
Some fans took that in a negative way, but Hamill has taken the time to clarify that's not how he feels about the situation anymore. Find out what else Mark Hamill had to say about his The Last Jedi disagreement below.
Speaking with Variety, here's what Mark Hamill had to say about his previous statement:
Mark Hamill (@HamillHimself) shares his favorite memories of Adam West (@therealadamwest) and discusses #StarWars on the #Tonys red carpet. pic.twitter.com/3JEKmzNzq7

— Variety (@Variety) June 12, 2017
If you can't watch the video, here's Hamill's quote in full:
"Rian Johnson is an amazing filmmaker, and if you look at Brick or Brothers Bloom or Looper, each film is different from the last one and they're so inventive. I think people will be pleased and surprised, I know I was. I got in trouble, because I was quoted as saying to Rian that I fundamentally disagree with everything you decided about Luke, and it was inartfully phrased. What I was, was surprised at how he saw Luke. And it took me a while to get around to his way of thinking, but once I was there it was a thrilling experience. I hope it will be for the audience too."
That sounds like it could be damage control on Hamill's part, who undoubtedly took some flack from the publicity department, but he also sounds sincere in his clarification. Plus, while there were some fans who took Hamill's words negatively, many also understood what Hamill was saying as an actor. Though Hamill had a different vision for where Luke Skywalker would go, he eventually got on board with the Jedi's journey.
Since we're still in the dark about what has happened to Luke Skywalker during his self-imposed exile and exactly what will happen with him in The Last Jedi, Hamill wasn't able to discuss any specific differences that Johnson had when compared to the actor's own ideas. But hopefully, we'll get some more information when the next trailer arrives, whenever that may be.
Star Wars: The Last Jedi arrives on December 15.