'Pitch Perfect 3' Featurette: The Bellas Are Going On A Global Tour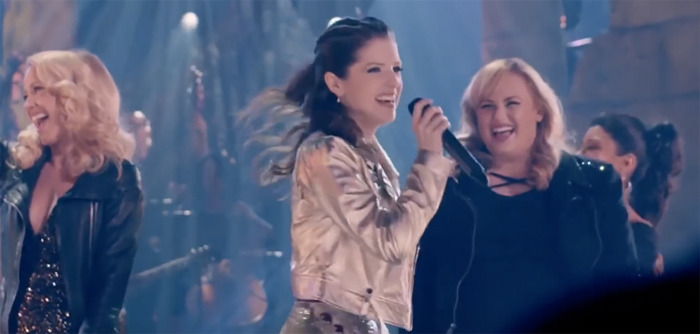 Production has officially wrapped on the musically charged sequel Pitch Perfect 3, and we know that because a new wrap reel featurette has just arrived to give us our first look at the return of the Bellas after their big world championship win in Pitch Perfect 2.
New director Trish Sie takes us behind the scenes of the sequel where she reveals that the Bellas are going on a global tour, and we get a sneak peek at some of the musical numbers, as well as a surprising action sequence that happens at some point. Watch the Pitch Perfect 3 featurette below for our first glimpse at the sequel.
Along with the return of Anna Kendrick, Rebel Wilson, Brittany Snow, Anna Camp, Hailee Steinfeld and the rest of the Bellas, we get to see John Michael Higgins and Elizabeth Banks flailing about as the a capella commentators. Plus, you can catch a glimpse of new cast members John Lithgow, who has some kind of unknown role in the movie. Though director Trish Sie says that Litghow and Rebel Wilson are like "peas in a pod" so maybe he plays her father? We catch a glimpse of them dancing together at some kind of event, so who knows.
Another new cast member is DJ Khaled, who appears to be playing himself in the movie. Our look at his part in the movie features him hanging out with some US Army troops as well as wearing a fancy white tuxedo. Since the Bellas are on a global tour, maybe they get paired up with DJ Khaled at some point? That's our best guess.
Otherwise, the other big details to notice in this look behind the scenes is that there's a sequence where an upscale yacht ends up on fire and the Bellas have to escape from it by jumping into the ocean. We're not sure how that fire gets started or who started it, but presumably it will be a funny sequence as well.
Personally, I just hope Pitch Perfect 3 is an improvement over the previous sequel. Though Elizabeth Banks made a splash at the box office with Pitch Perfect 2 and it helped land her a gig directing a reboot of Charlie's Angels, the follow-up was missing some of the pieces that made the first comedy a satisfying surprise hit.
Trish Sie's comedy experience is limited, having been at the helm of Step Up: All In, not to mention the instantly viral music videos for the songs "Here It Goes Again" and "Upside Down & Inside Out" by the band OK Go, but hopefully the script by Pitch Perfect scribe Kay Cannon with a new draft by School of Rock writer Mike White doesn't feel quite as rushed and incomplete as Pitch Perfect 2.
Pitch Perfect 3 is set to hit theaters December 22 and there's supposed to be some kind of announcement about the sequel today so stay tuned to see what that's all about.