Cool Stuff: Sphero Debuts Interactive 'Spider-Man: Homecoming' Toy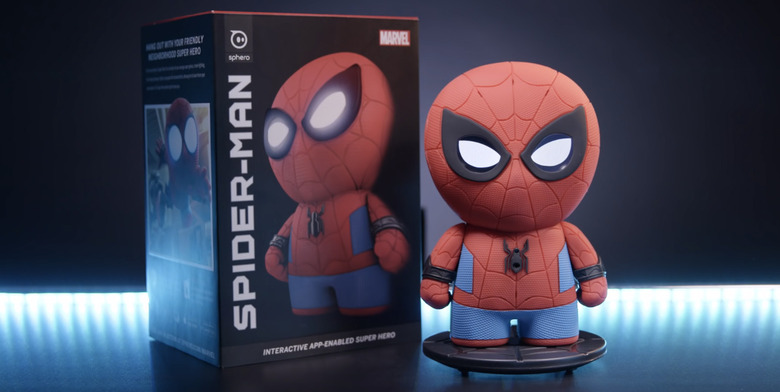 Ever since Sphero made a splash with the interactive BB-8 droid toy that arrived before Star Wars: The Force Awakens hit theaters, they've become a household name in cool, albeit pricey, electronic toys. Just recently they unveiled their interactive Lightning McQueen remote controlled car, and now they have a Spider-Man: Homecoming inspired gizmo too.
The Sphero Spider-Man toy is an interactive little gadget that talks to you and reacts to your voice commands. You can ask Spidey to tell you a joke, ask trivia questions, give you the time, guard your room, wake you up and more. Beyond those basic capabilities, Spidey will also go on missions, play games, tell stories and do other things that will change how he interacts with you as time goes on.
Check out the Sphero Spider-Man toy in action after the jump.
Here are the features of the Sphero Spider-Man
Wise-crackin' Spidey – Talk to Spidey using a variety of phrases. But be warned – he's quite the jokester!
Super Smarts – Earn Spider-Man's trust by working together to defeat baddies
Team Up – Go on missions & battle villains. Every decision influences the adventure
Emotive Eyes – Spidey's LCD eyes express his every thought and emotion
Spider-Sense – Spidey's built-in IR sensor allows him to detect and react to movement
Ultimate Experience – Spidey's web connection allows you to get content updates
Create an alter ego – Create your Super Hero identity and keep tabs on your accomplishments
Write your story – Every decision creates a new path forward, making every adventure unique
Unlike the BB-8 and Lightning McQueen, which are toys that are made for kids of all gaes, I'm not sure this interactive toy is quite as appealing to adults. Since it doesn't move around, it really is nothing more than a less a less versatile superhero version of an Amazon Echo with Alexa. Sadly, the voice isn't provided by Tom Holland, even though the Spidey suit on the toy is inspired by his Stark suit in Spider-Man: Homecoming.
At the very least, the snarky attitude this Spidey has makes his interaction rather entertaining, not to mention the LCD eyes that make him quite expressive. However, I'm not sure that's enough to justify the $150 pricetag. Still, it could make a nice Christmas present for the kids.