Cool Stuff: 'Stranger Things' Action Figures From Funko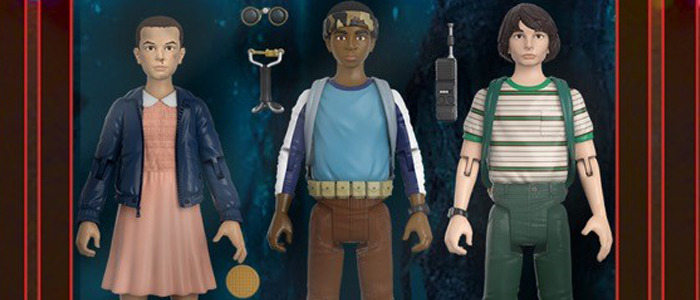 Funko may be best known for their Pop! Vinyl toy line, but now the company has created a batch of Stranger Things action figures based on popular characters from the supernatural Netflix series. After taking a look at these figures, I'm guessing collectors who love the show would be willing to dive into the Upside Down in order to get their hands on these things.
The news comes directly from Funko's website, where they explain that they're selling two separate three-packs of 3 3/4 tall action figures. One pack contains figures based on the characters of the group's de facto leader Mike Wheeler (played by the awesomely-named Finn Wolfhard), the logic-driven Lucas Sinclair (played by Caleb McLaughlin), and the mysterious Eleven (played by Millie Bobby Brown). The other pack includes figures based on the unfortunate Will Byers (Noah Schnapp), the loyal Dustin Henderson (Gaten Matarazzo), and the evil Demogorgon.
These figures are all fully articulated, and most come with some sort of prop that reflects the character: Eleven has her Eggo waffles (obviously), Mike has a walkie-talkie, and Lucas gets two – a slingshot and a pair of binoculars. The second pack is far more sparse; it looks like the only prop that comes with that is a package of chocolate pudding, which I'm guessing isn't intended for the Demogorgon. (But now that I think about it, it's possible the Demogorgon adores chocolate pudding. How much destruction might have been avoided had someone just offered it some damn pudding? How many lives potentially saved?!)
The Funko figures will be available sometime in August. If you're not crazy about the look of them, maybe you'll be more interested in the 7-inch figures that McFarlane Toys has on deck for a November release. McFarlane is also coming out of the gate with a Chief Hopper figure, so that's another plus for fans of David Harbour's character who haven't seen him appear in Funko form yet.
Meanwhile, GreenLumux brought to our attention the fact that a company called CMON has launched a Kickstarter for a medieval fantasy board game called Zombicide: Green Horde that includes non-canonical versions of the Stranger Things kids as part of their reward packages. You can read all about the game right here, and see what the Stranger Things characters (minus Lucas, who may be available in a stretch goal in the coming days) might look like in an alternate universe below:
Stranger Things season 2 arrives on Netflix on October 31, 2017.